Forgotton Anne
Shop Info
Developers
Publishers
Release Date
Price
Shop
ThroughLine Games

Square Enix

15. Mai 2018
19,99€
STEAM
Kinguin
KeyForSteam
Developers
ThroughLine Games

Publishers
Square Enix

Release Date
15. Mai 2018
Price
19,99€
Shop
STEAM
Kinguin
KeyForSteam
Description
Reviews & Accolades
"Gorgeously animated cutscenes segue into gameplay, the wonderful art shifting frame by frame in response to your inputs." - PCGamesN
Sammleredition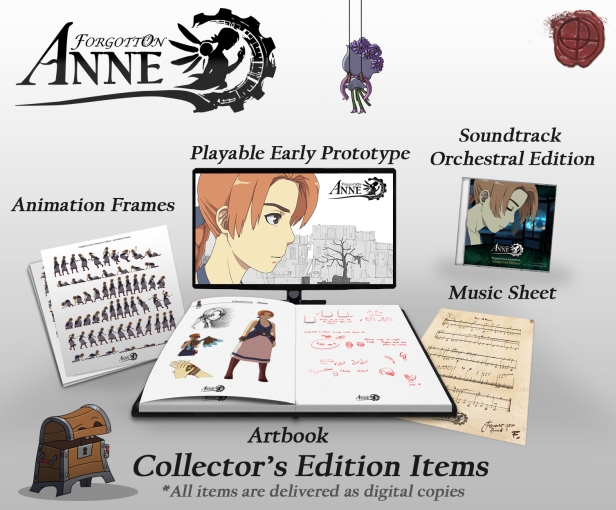 Extras der Collector's Edition:
- Artbook: The Art of Forgotton Anne: Tauche ein in die wundervolle Kunst von Forgotton Anne. Dieses digitale Artbook enthält über 90 Seiten mit Kunst aus dem Spiel und der Entwicklung, inklusive frühen Skizzen, Storyboards und vielem mehr.
- Früher Prototyp von Forgotton Anne: Renne und springe durch die frühen Versionen der Orte im Spiel und entdecke den Entwicklungsprozess durch Notizen der Entwickler.
- Noten von Annes Titellied: Hol dir eine "vergessene Schriftrolle" mit der Notenschrift für ein Original-Pianoarrangement von Annes Titellied.
- Eine Sammlung von Annes Gameplay-Charaktermodellen aus dem Spiel: Studiere Annes Bewegungen mit dieser Sammlung von Annes Animationsbildern. Enthält 10 Bilddateien mit Modellen in Hochauflösung.
- Orchester-Soundtrack von Forgotton Anne: Erlebe die Erinnerungen von Forgotton Anne erneut mit diesem speziellen Soundtrack, der mit dem Orchester der Kopenhagener Philharmonie aufgenommen wurde. Enthält das Titellied "Forgotten Anne" von Randi Laubek.
1: Towergrounds - 3:36
2: Confrontation - 2:11
3: City Streets - 5:11
4: Train Ride - 5:01
5: Anne's House - 1:55
6: Spring Garden - 1:23
7: Another World - 1:58
8: The Return - 3:41
9: Bonku's Chamber - 2:25
10: Ether Bridge - 2:40
11: Last Outpost - 2:23
12: Caretaker - 2:54
13: The Choice - 2:45
14: Forgotten Anne - 2:50
- 40:56
Über das Spiel
Stell dir einen Ort vor, an den alles Verlorene geht: altes Spielzeug, Briefe, Socken. Das Land der Vergessenen ist eine magische Welt, in der sich lebendige Gegenstände, danach sehnen, dass sich jemand an sie erinnert.
Forgotton Anne ist ein nahtloses Abenteuer mit fesselnder Geschichte und Rätselelementen. Du bist Anne, die Hüterin im Land der Vergessenen, die eine Rebellion niederschlagen will, die verhindern könnte, dass sie und ihr Meister Bonku in die Welt der Menschen zurückkehren ...

Features
Erkunde eine Welt der Wunder voller Vergessener - charmanten Alltagsobjekten, die voller Persönlichkeit zum Leben erwacht sind

Entdecke die Wahrheit hinter dem entsetzlichen Konflikt zwischen dem leidenschaftlichen Herrscher und der skrupellosen Rebellion

Nutze Anima, die Energie, die dem Land Leben einhaucht, um Rätsel zu lösen und die Kontrolle über das Schicksal der Vergessen zu ergreifen

Wähle weise. Deine Worte & Taten lenken die Geschichte mit einem verzweigten Dialogsystem, das die Macht in deine Hände legt

Renne, springe & fliege, während du Anne nach Hause führst und unterwegs Fähigkeiten freischaltest

Genieße die von Hand animierte Grafik, die die gleichen Techniken einsetzt wie deine Lieblingsanimationsfilme

Tauche ein in den erhebenden Soundtrack, der von der Kopenhagener Philharmonie dargeboten wird

This game is published via Square Enix Collective, which brings innovative and interesting indie games from independent development studios to gamers around the globe.
Achievements
| Icon | Name | Description | Unlocked |
| --- | --- | --- | --- |
| | Afraid of the Dark | Turn on bedside lamp | No |
| | Investigator | Say hi to Pavil | No |
| | Reflections | Take a breather in the storage room | No |
| | Reluctant Helper | Take CCU to Struct | No |
| | Plot Thickens | Examine PAX's secret room | No |
| | Hide & Seek | Catch Quill | No |
| | Good Cop, Bad Cop | Get Magnum to do your dirty work | No |
| | Eavesdropper | Overhearing private conversations | No |
| | Launch Site | Discover Rocket | No |
| | Millenium Actress | Try on dress | No |
| | Detective Anne | Speak to all forgotlings at Scrappers | No |
| | Traceuse | Don't fall during Roof Chase | No |
| | Stealthy | Don't get jumped by lost pieces | No |
| | Cartographer | Find way through sewers without getting lost | No |
| | Rhythmic | Keep a steady pace while pumping | No |
| | Companionship | Keep up with Fig | No |
| | Alma Mater | Instill all fallen rebels | No |
| | In the Lead | Overtake Fig | No |
| | Hidden Thespian | Listen to Fig's entire monologue before distilling him | No |
| | Old Friends | Don't distill Tiphany | No |
| | Nostalgia | Revisit balcony | No |
| | Bookworm | Examine all books | No |
| | Empathic | Get past Tink without tearing her apart | No |
| | Quiet Observer | Sit on all chairs | No |
| | Tower Hawk | Wing-jump 100 times | No |
| | Stair Master | Take 1,000 stair steps | No |
| | Remember Anne | Complete game | No |
| | Diarist | Read 10 diary entries | No |
| | Explorer | Collect two mementos | No |
| | Grab It! | Collect half of all mementos | No |
| | True Collector | Collect all mementos | No |
| | Pacifist | Don't distill any forgotlings | No |
| | Lonely Enforcer | Converse with the Practice Dummy | No |
| | | | | | | | | | | | | | | | | | | | | | | | | | | | | | | | | | |
| --- | --- | --- | --- | --- | --- | --- | --- | --- | --- | --- | --- | --- | --- | --- | --- | --- | --- | --- | --- | --- | --- | --- | --- | --- | --- | --- | --- | --- | --- | --- | --- | --- | --- |
| Icon | | | | | | | | | | | | | | | | | | | | | | | | | | | | | | | | | |
| Name | Afraid of the Dark | Investigator | Reflections | Reluctant Helper | Plot Thickens | Hide & Seek | Good Cop, Bad Cop | Eavesdropper | Launch Site | Millenium Actress | Detective Anne | Traceuse | Stealthy | Cartographer | Rhythmic | Companionship | Alma Mater | In the Lead | Hidden Thespian | Old Friends | Nostalgia | Bookworm | Empathic | Quiet Observer | Tower Hawk | Stair Master | Remember Anne | Diarist | Explorer | Grab It! | True Collector | Pacifist | Lonely Enforcer |
| Description | Turn on bedside lamp | Say hi to Pavil | Take a breather in the storage room | Take CCU to Struct | Examine PAX's secret room | Catch Quill | Get Magnum to do your dirty work | Overhearing private conversations | Discover Rocket | Try on dress | Speak to all forgotlings at Scrappers | Don't fall during Roof Chase | Don't get jumped by lost pieces | Find way through sewers without getting lost | Keep a steady pace while pumping | Keep up with Fig | Instill all fallen rebels | Overtake Fig | Listen to Fig's entire monologue before distilling him | Don't distill Tiphany | Revisit balcony | Examine all books | Get past Tink without tearing her apart | Sit on all chairs | Wing-jump 100 times | Take 1,000 stair steps | Complete game | Read 10 diary entries | Collect two mementos | Collect half of all mementos | Collect all mementos | Don't distill any forgotlings | Converse with the Practice Dummy |
| Unlocked | No | No | No | No | No | No | No | No | No | No | No | No | No | No | No | No | No | No | No | No | No | No | No | No | No | No | No | No | No | No | No | No | No |
×