Octahedron: Transfixed Edition
Shop Info
Description
Octahedron: Transfixed Collector's Edition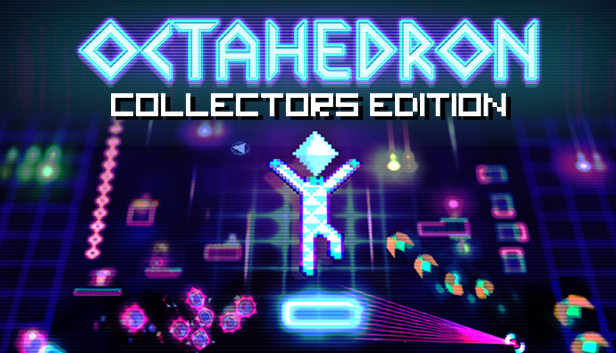 Das Octahedron: Collector's Edition enthält den vollständigen, digitalen Soundtrack sowie ausgewählte, spielbare Prototyp-Level, die die Evolution der Karten während der Entwicklung zeigen.
Demo


Die Demo von Octahedron bietet eine Reihe ausgewählter Level aus dem vollständigen Spiel, die einen Vorgeschmack liefern auf die Bewegung, Gegner, Hindernisse, Plattformfertigkeiten und wunderbaren Schwierigkeitsgrade, auf die ihr euch in der Vollversion freuen könnt.
Reviews & Accolades
"It has the same otherworldly quality [as Rez], the same imperative to get through its levels with style, with rhythm." - PCGamesN

"Octahedron is actually the Dark Souls of platform games." - Expansivedlc_com
Über das Spiel

Reise auf Plattformen, die aus dem Nichts erschaffen werden, durch eine pulsierende Welt im Untergrund in diesem psychedelischen Action-Plattformer, in dem zu einem pumpenden Beat der Schwerkraft trotzt.
SCHLÜSSELELEMENTE
Plattformen aus dem Nichts
Lasse Plattformen per Knopfdruck erscheinen & gleite auf ihnen dahin, bis ihnen die Energie ausgeht
Greife nach den Sternen
Erklimme farbenfrohe Höhen zu einem pulsierenden Beat, erreiche die Spitze & entkomme der unterirdischen Welt Veetragoul
Neon-angetriebene Upgrades
Röste Gegner mit Laserstrahlen, zerstöre Wände und löse Rätsel, um deinen Plattform zu verbessern
Von Hand geschaffenes Entzücken
Sammle Splitter des Octahedron in 50 von Hand geschaffenen Levels, schalte neue Welten & Bonus-Level frei und verdiene Medaillen
Sagenhafter Sound
Verliere dich im atmosphärischen Soundtrack von Chipzel (Super Hexagon) und den House- & Trance-Produzenten Andre Sobota und Monomirror
Achievements
| Icon | Name | Description | Unlocked |
| --- | --- | --- | --- |
| | TRAVELOGUE | Begin your journey (beat the intro stage) | No |
| | TETRAGOUL | Beat World 1 | No |
| | HEXAPAQ | Beat World 2 | No |
| | OCTALOP | Beat World 3 | No |
| | DODECAS | Beat World 4 | No |
| | ICOSAN | Beat World 5 | No |
| | HOME | Finish the game | No |
| | TETRAHEDRON | Collect all tetrahedrons | No |
| | EQUILIBRIUM | Get all optional upgrades | No |
| | 100% | Get all 100% Medals | No |
| | DEUS | Get all Deus Medals | No |
| | PAR ANY% | Get all Par Any% Medals | No |
| | PAR 100% | Get all Par 100% Medals | No |
| | SYMMETRY | Beat 5-T and collect all of its tetrahedrons | No |
| | MINIMALIST | Beat 3-1, destroy no light bulbs or enemies, collect nothing | No |
| | FLOORMASTER 1 | Beat X2-2 while touching the ground just once | No |
| | FLOORMASTER 2 | Beat X4-1 while touching the ground just once | No |
| | BASIC | Beat X4-4 using only the basic platform | No |
| | ROGUE TRAVELLER | Beat World 1 in Rogue Extra mode | No |
| | TIME | Get all Time Medals | No |
| | CLEAN BREAK | Beat 2-1, destroy all breakable floors | No |
| | SHORTCUT | Find the hidden shortcut in 2-4 | No |
| | DEFENDER | In 2-5: Block 5 projectiles using your platforms, without touching the ground | No |
| | BOTANIST | Beat 2-7, destroy all light bulbs, but don't collect any flowers | No |
| | HERDER | In 3-1: Trap 4 enemies in the box-shaped area you start the level in | No |
| | BEEKEEPER | Beat 4-1, don't kill any bees, don't touch any beehives, don't lose a life | No |
| | MINIMALIST 2 | Beat 3-8, destroy no light bulbs or enemies, collect nothing | No |
| | MINIMALIST 3 | Beat 3-9, destroy no light bulbs or enemies, collect nothing | No |
| | MINIMALIST 4 | Beat 4-4, destroy no light bulbs or enemies, collect nothing | No |
| | GHOST 1 | Beat 1-6, collect and destroy nothing, don't get detected by a scanner, don't get hit | No |
| | GHOST 2 | Beat 4-7, collect and destroy nothing, don't get detected by a scanner, don't get hit | No |
| | FLOORMASTER 3 | Beat 3-5 while touching the ground just twice | No |
| | BASIC 2 | Beat X3-4 using only the basic platform | No |
| | PARKOUR | After unlocking all optional upgrades, revisit 1-2 to get a Par Any% and a Par 100% Medal at the same time | No |
| | TIMED TRAVEL | Beat the game in under 2 hours | No |
| | | | | | | | | | | | | | | | | | | | | | | | | | | | | | | | | | | | |
| --- | --- | --- | --- | --- | --- | --- | --- | --- | --- | --- | --- | --- | --- | --- | --- | --- | --- | --- | --- | --- | --- | --- | --- | --- | --- | --- | --- | --- | --- | --- | --- | --- | --- | --- | --- |
| Icon | | | | | | | | | | | | | | | | | | | | | | | | | | | | | | | | | | | |
| Name | TRAVELOGUE | TETRAGOUL | HEXAPAQ | OCTALOP | DODECAS | ICOSAN | HOME | TETRAHEDRON | EQUILIBRIUM | 100% | DEUS | PAR ANY% | PAR 100% | SYMMETRY | MINIMALIST | FLOORMASTER 1 | FLOORMASTER 2 | BASIC | ROGUE TRAVELLER | TIME | CLEAN BREAK | SHORTCUT | DEFENDER | BOTANIST | HERDER | BEEKEEPER | MINIMALIST 2 | MINIMALIST 3 | MINIMALIST 4 | GHOST 1 | GHOST 2 | FLOORMASTER 3 | BASIC 2 | PARKOUR | TIMED TRAVEL |
| Description | Begin your journey (beat the intro stage) | Beat World 1 | Beat World 2 | Beat World 3 | Beat World 4 | Beat World 5 | Finish the game | Collect all tetrahedrons | Get all optional upgrades | Get all 100% Medals | Get all Deus Medals | Get all Par Any% Medals | Get all Par 100% Medals | Beat 5-T and collect all of its tetrahedrons | Beat 3-1, destroy no light bulbs or enemies, collect nothing | Beat X2-2 while touching the ground just once | Beat X4-1 while touching the ground just once | Beat X4-4 using only the basic platform | Beat World 1 in Rogue Extra mode | Get all Time Medals | Beat 2-1, destroy all breakable floors | Find the hidden shortcut in 2-4 | In 2-5: Block 5 projectiles using your platforms, without touching the ground | Beat 2-7, destroy all light bulbs, but don't collect any flowers | In 3-1: Trap 4 enemies in the box-shaped area you start the level in | Beat 4-1, don't kill any bees, don't touch any beehives, don't lose a life | Beat 3-8, destroy no light bulbs or enemies, collect nothing | Beat 3-9, destroy no light bulbs or enemies, collect nothing | Beat 4-4, destroy no light bulbs or enemies, collect nothing | Beat 1-6, collect and destroy nothing, don't get detected by a scanner, don't get hit | Beat 4-7, collect and destroy nothing, don't get detected by a scanner, don't get hit | Beat 3-5 while touching the ground just twice | Beat X3-4 using only the basic platform | After unlocking all optional upgrades, revisit 1-2 to get a Par Any% and a Par 100% Medal at the same time | Beat the game in under 2 hours |
| Unlocked | No | No | No | No | No | No | No | No | No | No | No | No | No | No | No | No | No | No | No | No | No | No | No | No | No | No | No | No | No | No | No | No | No | No | No |
×