Orcs Must Die! Unchained
Shop Info
Developers
Publishers
Release Date
Shop
Robot Entertainment

Robot Entertainment

19. Apr. 2017
STEAM
Kinguin
KeyForSteam
Developers
Robot Entertainment

Publishers
Robot Entertainment

Release Date
19. Apr. 2017
Shop
STEAM
Kinguin
KeyForSteam
Description
Kürzlich aktualisiert
New Hero: Yi-Lin
Yi-Lin is a quick, melee hero who uses her twin swords to devastating effect. Her use of combos can deal devastating damage as well as provide regeneration making her a true force to be reckoned with. Yi-Lin, the Jade Sentinel has awoken to defend Centre once more against the hordes of orcs, soldiers, and her old enemies – the Wu Xing Dynasty.Learn more about Yi-Lin in the
Designing Yi-Lin
blog.
New Faction: The Wu Xing, Masters of the Five Elements
The Wu Xing are masters of the five elements. Deadly and resilient they make dangerous foes!
Wu Xing Soldiers: These soldiers come in four forms: light, medium, heavy, and ranged. All of the soldiers have magic armor, making physical damage optimal in defeating them.
Terracotta Giant: These slow-moving stone giants do not attack players. Instead, they perform a steady march to the rift, slowing any player that gets too close.
Red Panda: Despite being called the Red Panda, these minions are actually blue! Be careful, these minions cast a powerful speed buff on allied minions.
Water Dragon: This hunter minion focuses on players. Unlike other Hunter minions, this minion has a splash attack, damaging all players within a cone in front of him.
Elemental Mages: These mages throw bouncing orbs of elemental energy.
New Maps: Three Brand New Maps
Water Garden - Survival (Apprentice and Master)
The water gardens of the White Tiger Empire appear to be closest to the first attacks by the Wu Xing Dynasty. Defend three breaches to the best of your ability without too much help from wall traps.
Castle Gates - Survival (Master and Rift Lord) and Endless
Breaching the Castle Gates is a solid strategy for the Wu Xing Dynasty. Once inside, defending this open map will be a challenge. Funneling the front gates to one side is imperative.
Midnight Market - Survival (Warmage and Rift Lord) and Sabotage
These marketplaces of the White Tiger Empire are popular night spots. This seems to be exactly why the Wu Xing Dynasty has chosen to attack them so aggressively.
New Feature: Weekly Challenge Matchmaking
The community has requested this feature for quite a while. We are happy to deliver this highly anticipated feature!
Kürzlich aktualisiert
New Feature: Fast Restart
A highly requested feature has finally arrived! We have added the ability for non-matchmade games to be restarted by the party leader (you cannot restart Chaos Trials or Sabotage games).
New for Endless: Four Endless Maps
Four new Endless maps are now available as part of the Endless Summer event beginning this Thursday!
Banquet Hall (Apprentice)
Thuricvod Village (War Mage)
Highlands (Master)
Avalanche (Rift Lord)
New for Sabotage: Map and Consumables
Temple Graveyard is now available in Sabotage (Master and Rift Lord).
Frost Giants are now a playable minion card.
Minions Drop Grenades Buff: Causes player sent minions to have a 50% chance to drop grenades on death.
Teleportation Staff: Drops a staff that will teleport players to a random location if they stay within its area for several seconds.
New for Chaos Trials: Modifiers
Guardians Damage Allies: Guardian Spin damages barricades and players.
Unstable Rift Polymorph: Failing to close an Unstable Rift will cause the entire team to be polymorphed.
New Vanity Items: Skins and Achievement Rewards
New skins are available for Smolder, Hogarth, Ivy, Stinkeye, Maximilian, Cygnus, Midnight, Gabbriella, Bloodspike, and Bionka. A number of avatars, backplates, and titles have also been added as rewards for earning in-game achievements!
Read the
detailed patch notes
and give us your feedback!
Connect!
Kürzlich aktualisiert

New Hero: Deadeye
Deadeye is an infamous outlaw with a bounty on her head. With each kill, she becomes stronger and more infamous. Her dual crossbows and explosive arrows make her a force to be reckoned with.
Half elf and half orc, Deadeye was adopted into the elven community of the First Grove as a child and raised as Galadra the trueshot. Accused of her adoptive mother High Warden Naya's brutal murder, Galadra was narrowly apprehended by Ivy, Warden of the First Grove, losing her right eye in the process and becoming Galadra the Deadeye.
Get the full details on her abilities and development in the
Designing Deadeye blog
!
New Feature: Community Challenges
Exciting news, War Mages! In-game events have been a frequent question and discussion topic within the OMDU community and this update finally delivers a lot of the technology we need to create fun in-game events.
We'll have a lot more to share about this in the coming weeks as we run a few smaller events before rolling out an Endless Summer event later this year. Well, later this summer to be more specific!
New Feature: Pause
A highly requested feature has finally arrived! We have added the ability for solo and non-matchmade games to be paused by any player. Due to the game being online, we cannot pause forever, but you have a significant amount of time to grab a snack!
New for Sabotage: Map and Consumables
Stables of Eventide is now available in Sabotage.
Polymorph Chicken: added to base set consumables, earned by achievement
Armored Satyrs
Control Resist Buff
Control Immunity Staff
[h1]New for Chaos Trials: Modifiers[/h1]
Health Drain (Master and Rift Lord only)
Mana Drain (Master and Rift Lord only)
Coin Drain (Master and Rift Lord only)
Minions Drop Grenades (all difficulties)
Periodic Healing Aura (all difficulties)
Read the detailed patch notes
and let us know what you think!
Über das Spiel
Wir hören dir zu. Bitte besuche unsere Foren und lass uns wissen, wie wir das Spiel verbessern können.
"Es ist wie Orcs Must Die! 3 nur viel, viel besser!" – Polygon
"Zum Leidwesen der Orks ist es besser als je zuvor." – PCGames N
"Unchained ist definitiv ein Spiel aus der Orcs Must Die!-Reihe." – Hardcore Gamer
Orcs Must Die! Unchained
hebt das erfolgreiche Action-Gameplay der
Orcs Must Die!
-Turmverteidigung mit teamorientierten Funktionen auf eine neue Ebene! Aber werde nicht übermütig, denn es steht noch mehr auf dem Spiel, die Fallen sind blutiger und die Eindringlinge noch grausamer. Du musst zur Höchstform auflaufen und die besten Orkjäger der Welt mitbringen!
Orcs Must Die! Unchained
ist in der bekannten Welt der unglaublich komischen Fantasy-Vorgänger angesiedelt und spielt Jahre nach dem Finale von
Orcs Must Die! 2
. Durch die Dutzenden neuen Spalte sind Helden von und fern gekommen, um einen brutalen Krieg über die Herrschaft dieser magischen Tore zu führen. In den Jahren nach
Orcs Must Die! 2
haben Maximilian und Gabriella den einst mächtigen Orden wiederaufgebaut. Diesmal bekommen sie es nicht mehr mit der stumpfsinnigen Horde zu tun, die sie schon zweimal besiegen konnten, sondern mit den Unchained, einer organisierten Armee, die von mächtigen Helden angeführt werden.
Orks und ihre Lakaien verkloppen

Die klassische "Orcs Must Die!"-Mischung aus Action und Strategie kehrt zurück. Spieler können mit ihren Freunden viele neue Eindringlinge vernichten! Baue eine undurchdringliche Festung mit Fallen, die Gegner zerhacken, zermahlen, planieren, metzeln und verbrennen, bevor sie das Herz des Spalts erreichen!
Es ist definitiv eine Falle

Was gibt es Besseres, als Fallen zum Töten von Schergen? Mehr Fallen! Spiele, schalte Fallen frei und mach sie durch Verbesserungen noch tödlicher! Die Spieler verzieren ihre Festungen mit schadenfrohen Foltergeräten und entwickeln urkomische Wege, den eindringenden Schergen ein brutales Ende zu bereiten. Erstelle eine Strategie für jeden Kampf. Die Horden haben keine Chance gegen die Macht der Elemente und Physik!
Wahre Action-Helden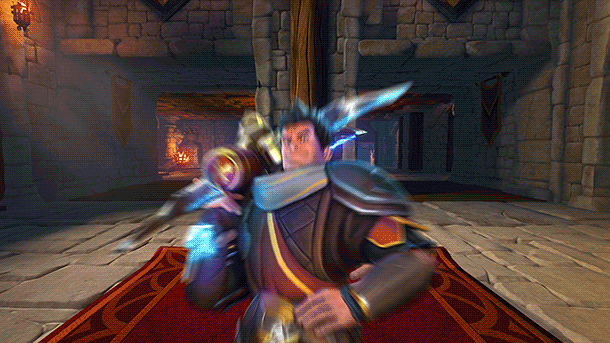 Bist du Magier genug, die Spalte zu verteidigen? Eine Vielzahl einzigartiger Helden mit komplexem Gameplay sorgt für eine Vielzahl an schmerzhaften Möglichkeiten, die Orks aufzuhalten. Alte Bekannte wie Max und Gabriella werden von neuen Helden wie Blackpaw, Hogarth, Stinkeye und Bloodspike unterstützt. Egal, ob die Spieler einen majestätischen oder niederträchtigen Ansatz verfolgen, für jeden Ork-Schlächter ist etwas dabei.
So metzelst du am liebsten

Fans von Orcs Must Die! werden den Überlebensmodus lieben. Hier kannst du mit zwei weiteren Spielern verteidigen, was das Zeug hält. Wöchentliche Herausforderungen und tägliche Quests geben dir die Möglichkeit, mehr Fallen freizuschalten und deine Ausrüstung zu verbessern. Der allzeit beliebte Endlos-Modus kehrt in Orcs Must Die! Unchained zurück und bietet einen erweiterten 3-Spieler-Koopmodus an. Der brandneue Modus mit dem Titel Sabotage lässt zwei Teams aus drei Spielern gegeneinander antreten, die sich gegenseitig mit Zaubern und Bossen trollen und um die höchste Punktzahl kämpfen.
Neu: Sabotage!

Spieler, die heiß auf Fallen, Zauber und Oger sind, dürfen den neuen Spielmodus Sabotage von Orcs Must Die! Unchained nicht verpassen! Dieser temporeiche Modus bietet ein völlig neues Spielerlebnis. Spieler erstellen ein Team und verteidigen ihren Spalt. Gleichzeitig spielt noch ein zweites Team auf derselben Karte, allerdings in einem ... gruseligen ... Paralleluniversum, oder so ähnlich. Dieses andere Team kann dein Team mit Zaubern, Schergen und riesigen Bossen ablenken, wodurch du Spaltpunkte verlierst. Natürlich kannst du mit deinem Team das Gleiche tun. Wer am Ende die meisten Spaltpunkte hat, gewinnt.
Achievements
| Icon | Name | Description | Unlocked |
| --- | --- | --- | --- |
| | Challenge Challenger | Win a weekly challenge. | No |
| | Part Party | Slot 1 part into 5 different traps. | No |
| | Coin Collector | Earn 150,000 coin in 1 match. | No |
| | Shoot Them Down | Kill 50 minions while they are in the air. | No |
| | Home Sweet Home | Place 100 guardians in their home locations. | No |
| | Slots Machine | Slot 3 trap parts into 1 trap. | No |
| | Freeloader | Win 1 match with all 3 free starter heroes. | No |
| | Fearless Leader | Win 5 games as a party leader. | No |
| | Rift Buster | Destroy or help to destroy 100 unstable rifts. | No |
| | Power Pick-Me-Ups | Pick up 100 Unchained drops. | No |
| | Trapping Talent | Place 10,000 traps. | No |
| | Ring of Fire | Catch 75 minions on fire at the same time with Smolder. | No |
| | 500 Helpings | Eat 500 Delicious Meals as Bloodspike. | No |
| | Pardon My Reach | Kill 250 minions ensnared by Reach of Roots with Ivy. | No |
| | Good CATCH! | Deal 2000 damage to an enemy with a single CATCH! by Hogarth. | No |
| | Moneymaker | Pick up 1000 coin bags with Dobbin. | No |
| | Out of Sight | Stay in Prowl for a total of 60min as Midnight. | No |
| | Very Blessed | Pick up 250 mana orbs with Stinkeye. | No |
| | Book Ended | Knock 1,000 minions into battleground hazards with Zoey's Book Club. | No |
| | Soul Collecting | Collect 500 soul stacks in a single match with Oziel. | No |
| | Touched by Can't Touch This | Deal 20,000 in damage to minions with Can't Touch This. | No |
| | Beauty and Beast | Deal 200,000 damage in a single match with Bionka. | No |
| | Air-Blackpaw | Kill a minion in midair with Blackpaw's Pounce. | No |
| | Combo Quest | Score a 15x or higher combo. | No |
| | Un-Unchained | Five star a master or rift lord battleground without any players going Unchained. | No |
| | Forever Unchained | Be Unchained for a total of 1 hour. | No |
| | Empty Pockets | Spend 200,000,000 in coin. | No |
| | Improvised Weapons | Kill 5,000 minions with environmental traps. | No |
| | Hazard Play | Kill 1,000 minions by knocking them into battleground hazards. | No |
| | Minion Overkill | Kill 100,000 minions. | No |
| | Landslide | Roll 250,000 meters in battle with Tundra's Avalanche. | No |
| | So Bossy | Kill 500 boss minions. | No |
| | Kill-netic | Kill 30 enemies within 1s of using Gabriella's Kinetic Pulse. | No |
| | Star Player | Earn 50 stars from weekly challenges. | No |
| | Toughing It Out | Defeat 15 consecutive waves in Endless. | No |
| | Going the Distance | Defeat 25 consecutive waves in Endless. | No |
| | Crushing Waves | Defeat 35 consecutive waves in Endless. | No |
| | Endless Domination | Defeat 45 consecutive waves in Endless. | No |
| | Month-aversary | Claim 30-day login reward. | No |
| | Great Opener | Open 100 chests. | No |
| | Made of Stars | Earn 200 stars. | No |
| | Wraith Wrath | Deal 1,000 damage with Oziel's Wraith Surge. | No |
| | Iced, Baby | Kill 1,000 frozen enemies with Tundra. | No |
| | Mr. Freeze | Freeze 5,000 enemies with Tundra. | No |
| | Kobolds on Strike | Kill 100 kobolds with Midnight's Shadow Swipe. | No |
| | What Hit Them | Kill 500 stunned enemies with Midnight. | No |
| | Simply Slamming | Kill 5,000 enemies with Slam It Down. | No |
| | Top Tier | Upgrade 20 traps to tier 7. | No |
| | Star Killer | Earn 5 stars on every map. | No |
| | Star Search | Earn 3 or more stars on every rift lord battleground. | No |
| | Shoot for the Stars | Earn 3 or more stars on every war mage battleground. | No |
| | Rift Lord Ready | Unlock rift lord difficulty. | No |
| | War Mage Warm-Up | Unlock war mage difficulty. | No |
| | Master Motivation | Unlock master difficulty. | No |
| | Victory Nap Earned | Complete the Prologue. | No |
| | Big Bang | Kill 150 enemies in 1 match with Dobbin's Spare Dynamite. | No |
| | STILL ANGRY! | Earn 50 stacks of ANGRY! at once with Hogarth. | No |
| | Pounce and Bounce | Use Blackpaw's Pounce 1,000 times during battle. | No |
| | Skill Shots | Kill 500 enemies by knocking them into hazards with Ivy's Penetrating Arrow. | No |
| | Frequent Frenzier | Use Bloodspike's Homicidal Frenzy 30x during battle. | No |
| | Burn Them Down | Deal 50,000 damage with Smolder's Incinerate. | No |
| | Deep Fried | Deal damage to 1,000 enemies with Smolder using naphtha. | No |
| | In a Blink | Use Gabriella's Blink 500x in battle. | No |
| | Adoring Fans | Mesmerize 50 enemies with a single Devious Allure from Gabriella. | No |
| | Faces Down | Kill 50 enemies with a single In Your Faces from Maximilian. | No |
| | Stunningly Handsome | Stun 10,000 enemies. | No |
| | Geared Up | Deal 50,000 damage with gear. | No |
| | Extra Crispy | Deal damage with 1,000 gallons of boiling oil. | No |
| | Ready to Rock | Kill 100 enemies with boulders. | No |
| | Chandelier Shatterer | Kill 100 enemies with chandeliers. | No |
| | Soldier Slaughter | Kill 10,000 soldiers. | No |
| | So Over Ogres | Kill 5,000 ogres. | No |
| | Archer Assault | Kill 1,000 Archers. | No |
| | Kobold Cataclysm | Kill 10,000 kobolds. | No |
| | Orc Onslaught | Kill 10,000 orcs. | No |
| | Starstruck | Earn 3 or more stars on every master battleground. | No |
| | Loving Healing | Heal 1,000,000 damage. | No |
| | Ironsides | Take 1,000,000 damage in 1 match. | No |
| | Little Millionaire | Earn 5,000,000 coin as Dobbin. | No |
| | Soul Searching | Collect 2,000 soul stacks in 1 match with Oziel. | No |
| | Rift Rippin' | Destroy 50 unstable rifts with Bionka. | No |
| | Kobold Crushin' | Kill 1,000 kobolds with Bionka. | No |
| | Anomalous Apocalypse | Kill 1,000 enemies with Stinkeye's Arcane Anomaly. | No |
| | Fatal Wounds | Kill 1,000 wounded enemies with Blackpaw. | No |
| | Second Tier | Upgrade a trap to tier 2. | No |
| | Rush and Crush | Kill 500 enemies by knocking them into hazards with Temper's Bull Rush. | No |
| | Bottled Up | Reach max rage with Rage of the Forge 50x. | No |
| | Wakey Wakey | Resurrect 10 teammates with scroll of resurrection. | No |
| | Scroll Loophole | Prevent the loss of 50 rift points with scroll of the empty rift. | No |
| | Firey Surprise | Kill 500 enemies with Smolder's From the Ashes. | No |
| | Bloody Business | Gain 50 Bloodbath stacks as Bloodspike. | No |
| | Ogre Overkill | Kill 50 full-health ogres with Bloodspike's Stunning Execution. | No |
| | Through and Through | Hit 5,000 enemies with Ivy's penetrating arrow. | No |
| | Gnoll Army | Summon 100 gnolls during battle with Blackpaw. | No |
| | Shortcut to Win | Use Dobbin's Mineshaft Shortcut 200x in a match he wins. | No |
| | Totem Toter | Place 100 totems as Stinkeye. | No |
| | Distance Dash | Run 26.2 miles with Midnight's Dash and Slash during battle. | No |
| | Undeclared | Change magic school in battle 250x as Zoey. | No |
| | Pet from Hell | Kill 500 enemies with Zoey's pet, Feebee. | No |
| | Henpecked | Get stunned by Zoey's Chaos Tome backfiring 15x during battle. | No |
| | Till It Hurts | Deal 25,000 damage to Oziel using Oziel's Essence Siphon. | No |
| | Reset Button | Reset 5,000 traps as Gabriella | No |
| | Amateur Saboteur | Win 5 Sabotage matches. | No |
| | Journeyman Saboteur | Win 10 Sabotage matches. | No |
| | Artisan Saboteur | Win 25 Sabotage matches. | No |
| | Master Saboteur | Win 100 Sabotage matches. | No |
| | In B4 Tubifore | Summon Tubifore 100x. | No |
| | Mercenary Mercy | Summon a mercenary 125x. | No |
| | Good Puppies | Summon Kobold Pups 25x. | No |
| | Infinitely Unstable | Cast Unstable Rift Spell 75x. | No |
| | Going Nuclear | Cast The Bomb Spell 50x. | No |
| | Around-The-Clock-Unchained | Use Unchained Scroll 200x. | No |
| | Get Swifty | Summon Swiftyhooves 150x. | No |
| | Sabotage 101 | Achieve level 5 to unlock Sabotage mode. | No |
| | Poly-more | Use Polymorph Chicken 75x. | No |
| | Sabotage 1 | Win 1 game of Sabotage. | No |
| | Sabotage 2 | Win 2 games of Sabotage. | No |
| | Sabotage 4 | Win 4 games of Sabotage. | No |
| | Trial Trainee | Win 1 Chaos Trial game | No |
| | Trial Templar | Win 5 Chaos Trial games | No |
| | Chaos Capable | Win 15 Chaos Trial games | No |
| | Herald of Havoc | Clear any 50 Chaos Trial tiers. | No |
| | Bouncy Bouncy Bombs | Hit 5000 enemies with Deadeye's Bouncing Bomb. | No |
| | Forever Infamous | Obtain 1000 stacks of Infamy with Deadeye. | No |
| | Move. NOW! | Use Deadeye's "Outta the Way" ability 500x in combat. | No |
| | Master Summoner | Summon 100 rift shards with Cygnus. | No |
| | Chaining Chain Lightning | Kill 2500 minions with Cygnus's Chain Lightning ability. | No |
| | Emperor's Reach | Use Yi-Lin's Imperial Reach ability 100x in combat. | No |
| | Tempest-est Strike | Hit 2500 enemies with Yi-Lin's Tempest Strike ability. | No |
| | Heavy Weapons | Kill 2,500 enemies with Brass using Cannonball. | No |
| | Joint Bank Account | Pickup 500 of Dobbin's coins as Brass. | No |
| | Scrap Collector | Pickup 2,500 Scrap as Brass. | No |
| | | | | | | | | | | | | | | | | | | | | | | | | | | | | | | | | | | | | | | | | | | | | | | | | | | | | | | | | | | | | | | | | | | | | | | | | | | | | | | | | | | | | | | | | | | | | | | | | | | | | | | | | | | | | | | | | | | | | | | | | | | | | | | | | | | | | |
| --- | --- | --- | --- | --- | --- | --- | --- | --- | --- | --- | --- | --- | --- | --- | --- | --- | --- | --- | --- | --- | --- | --- | --- | --- | --- | --- | --- | --- | --- | --- | --- | --- | --- | --- | --- | --- | --- | --- | --- | --- | --- | --- | --- | --- | --- | --- | --- | --- | --- | --- | --- | --- | --- | --- | --- | --- | --- | --- | --- | --- | --- | --- | --- | --- | --- | --- | --- | --- | --- | --- | --- | --- | --- | --- | --- | --- | --- | --- | --- | --- | --- | --- | --- | --- | --- | --- | --- | --- | --- | --- | --- | --- | --- | --- | --- | --- | --- | --- | --- | --- | --- | --- | --- | --- | --- | --- | --- | --- | --- | --- | --- | --- | --- | --- | --- | --- | --- | --- | --- | --- | --- | --- | --- | --- | --- | --- | --- | --- | --- | --- | --- | --- |
| Icon | | | | | | | | | | | | | | | | | | | | | | | | | | | | | | | | | | | | | | | | | | | | | | | | | | | | | | | | | | | | | | | | | | | | | | | | | | | | | | | | | | | | | | | | | | | | | | | | | | | | | | | | | | | | | | | | | | | | | | | | | | | | | | | | | | | | |
| Name | Challenge Challenger | Part Party | Coin Collector | Shoot Them Down | Home Sweet Home | Slots Machine | Freeloader | Fearless Leader | Rift Buster | Power Pick-Me-Ups | Trapping Talent | Ring of Fire | 500 Helpings | Pardon My Reach | Good CATCH! | Moneymaker | Out of Sight | Very Blessed | Book Ended | Soul Collecting | Touched by Can't Touch This | Beauty and Beast | Air-Blackpaw | Combo Quest | Un-Unchained | Forever Unchained | Empty Pockets | Improvised Weapons | Hazard Play | Minion Overkill | Landslide | So Bossy | Kill-netic | Star Player | Toughing It Out | Going the Distance | Crushing Waves | Endless Domination | Month-aversary | Great Opener | Made of Stars | Wraith Wrath | Iced, Baby | Mr. Freeze | Kobolds on Strike | What Hit Them | Simply Slamming | Top Tier | Star Killer | Star Search | Shoot for the Stars | Rift Lord Ready | War Mage Warm-Up | Master Motivation | Victory Nap Earned | Big Bang | STILL ANGRY! | Pounce and Bounce | Skill Shots | Frequent Frenzier | Burn Them Down | Deep Fried | In a Blink | Adoring Fans | Faces Down | Stunningly Handsome | Geared Up | Extra Crispy | Ready to Rock | Chandelier Shatterer | Soldier Slaughter | So Over Ogres | Archer Assault | Kobold Cataclysm | Orc Onslaught | Starstruck | Loving Healing | Ironsides | Little Millionaire | Soul Searching | Rift Rippin' | Kobold Crushin' | Anomalous Apocalypse | Fatal Wounds | Second Tier | Rush and Crush | Bottled Up | Wakey Wakey | Scroll Loophole | Firey Surprise | Bloody Business | Ogre Overkill | Through and Through | Gnoll Army | Shortcut to Win | Totem Toter | Distance Dash | Undeclared | Pet from Hell | Henpecked | Till It Hurts | Reset Button | Amateur Saboteur | Journeyman Saboteur | Artisan Saboteur | Master Saboteur | In B4 Tubifore | Mercenary Mercy | Good Puppies | Infinitely Unstable | Going Nuclear | Around-The-Clock-Unchained | Get Swifty | Sabotage 101 | Poly-more | Sabotage 1 | Sabotage 2 | Sabotage 4 | Trial Trainee | Trial Templar | Chaos Capable | Herald of Havoc | Bouncy Bouncy Bombs | Forever Infamous | Move. NOW! | Master Summoner | Chaining Chain Lightning | Emperor's Reach | Tempest-est Strike | Heavy Weapons | Joint Bank Account | Scrap Collector |
| Description | Win a weekly challenge. | Slot 1 part into 5 different traps. | Earn 150,000 coin in 1 match. | Kill 50 minions while they are in the air. | Place 100 guardians in their home locations. | Slot 3 trap parts into 1 trap. | Win 1 match with all 3 free starter heroes. | Win 5 games as a party leader. | Destroy or help to destroy 100 unstable rifts. | Pick up 100 Unchained drops. | Place 10,000 traps. | Catch 75 minions on fire at the same time with Smolder. | Eat 500 Delicious Meals as Bloodspike. | Kill 250 minions ensnared by Reach of Roots with Ivy. | Deal 2000 damage to an enemy with a single CATCH! by Hogarth. | Pick up 1000 coin bags with Dobbin. | Stay in Prowl for a total of 60min as Midnight. | Pick up 250 mana orbs with Stinkeye. | Knock 1,000 minions into battleground hazards with Zoey's Book Club. | Collect 500 soul stacks in a single match with Oziel. | Deal 20,000 in damage to minions with Can't Touch This. | Deal 200,000 damage in a single match with Bionka. | Kill a minion in midair with Blackpaw's Pounce. | Score a 15x or higher combo. | Five star a master or rift lord battleground without any players going Unchained. | Be Unchained for a total of 1 hour. | Spend 200,000,000 in coin. | Kill 5,000 minions with environmental traps. | Kill 1,000 minions by knocking them into battleground hazards. | Kill 100,000 minions. | Roll 250,000 meters in battle with Tundra's Avalanche. | Kill 500 boss minions. | Kill 30 enemies within 1s of using Gabriella's Kinetic Pulse. | Earn 50 stars from weekly challenges. | Defeat 15 consecutive waves in Endless. | Defeat 25 consecutive waves in Endless. | Defeat 35 consecutive waves in Endless. | Defeat 45 consecutive waves in Endless. | Claim 30-day login reward. | Open 100 chests. | Earn 200 stars. | Deal 1,000 damage with Oziel's Wraith Surge. | Kill 1,000 frozen enemies with Tundra. | Freeze 5,000 enemies with Tundra. | Kill 100 kobolds with Midnight's Shadow Swipe. | Kill 500 stunned enemies with Midnight. | Kill 5,000 enemies with Slam It Down. | Upgrade 20 traps to tier 7. | Earn 5 stars on every map. | Earn 3 or more stars on every rift lord battleground. | Earn 3 or more stars on every war mage battleground. | Unlock rift lord difficulty. | Unlock war mage difficulty. | Unlock master difficulty. | Complete the Prologue. | Kill 150 enemies in 1 match with Dobbin's Spare Dynamite. | Earn 50 stacks of ANGRY! at once with Hogarth. | Use Blackpaw's Pounce 1,000 times during battle. | Kill 500 enemies by knocking them into hazards with Ivy's Penetrating Arrow. | Use Bloodspike's Homicidal Frenzy 30x during battle. | Deal 50,000 damage with Smolder's Incinerate. | Deal damage to 1,000 enemies with Smolder using naphtha. | Use Gabriella's Blink 500x in battle. | Mesmerize 50 enemies with a single Devious Allure from Gabriella. | Kill 50 enemies with a single In Your Faces from Maximilian. | Stun 10,000 enemies. | Deal 50,000 damage with gear. | Deal damage with 1,000 gallons of boiling oil. | Kill 100 enemies with boulders. | Kill 100 enemies with chandeliers. | Kill 10,000 soldiers. | Kill 5,000 ogres. | Kill 1,000 Archers. | Kill 10,000 kobolds. | Kill 10,000 orcs. | Earn 3 or more stars on every master battleground. | Heal 1,000,000 damage. | Take 1,000,000 damage in 1 match. | Earn 5,000,000 coin as Dobbin. | Collect 2,000 soul stacks in 1 match with Oziel. | Destroy 50 unstable rifts with Bionka. | Kill 1,000 kobolds with Bionka. | Kill 1,000 enemies with Stinkeye's Arcane Anomaly. | Kill 1,000 wounded enemies with Blackpaw. | Upgrade a trap to tier 2. | Kill 500 enemies by knocking them into hazards with Temper's Bull Rush. | Reach max rage with Rage of the Forge 50x. | Resurrect 10 teammates with scroll of resurrection. | Prevent the loss of 50 rift points with scroll of the empty rift. | Kill 500 enemies with Smolder's From the Ashes. | Gain 50 Bloodbath stacks as Bloodspike. | Kill 50 full-health ogres with Bloodspike's Stunning Execution. | Hit 5,000 enemies with Ivy's penetrating arrow. | Summon 100 gnolls during battle with Blackpaw. | Use Dobbin's Mineshaft Shortcut 200x in a match he wins. | Place 100 totems as Stinkeye. | Run 26.2 miles with Midnight's Dash and Slash during battle. | Change magic school in battle 250x as Zoey. | Kill 500 enemies with Zoey's pet, Feebee. | Get stunned by Zoey's Chaos Tome backfiring 15x during battle. | Deal 25,000 damage to Oziel using Oziel's Essence Siphon. | Reset 5,000 traps as Gabriella | Win 5 Sabotage matches. | Win 10 Sabotage matches. | Win 25 Sabotage matches. | Win 100 Sabotage matches. | Summon Tubifore 100x. | Summon a mercenary 125x. | Summon Kobold Pups 25x. | Cast Unstable Rift Spell 75x. | Cast The Bomb Spell 50x. | Use Unchained Scroll 200x. | Summon Swiftyhooves 150x. | Achieve level 5 to unlock Sabotage mode. | Use Polymorph Chicken 75x. | Win 1 game of Sabotage. | Win 2 games of Sabotage. | Win 4 games of Sabotage. | Win 1 Chaos Trial game | Win 5 Chaos Trial games | Win 15 Chaos Trial games | Clear any 50 Chaos Trial tiers. | Hit 5000 enemies with Deadeye's Bouncing Bomb. | Obtain 1000 stacks of Infamy with Deadeye. | Use Deadeye's "Outta the Way" ability 500x in combat. | Summon 100 rift shards with Cygnus. | Kill 2500 minions with Cygnus's Chain Lightning ability. | Use Yi-Lin's Imperial Reach ability 100x in combat. | Hit 2500 enemies with Yi-Lin's Tempest Strike ability. | Kill 2,500 enemies with Brass using Cannonball. | Pickup 500 of Dobbin's coins as Brass. | Pickup 2,500 Scrap as Brass. |
| Unlocked | No | No | No | No | No | No | No | No | No | No | No | No | No | No | No | No | No | No | No | No | No | No | No | No | No | No | No | No | No | No | No | No | No | No | No | No | No | No | No | No | No | No | No | No | No | No | No | No | No | No | No | No | No | No | No | No | No | No | No | No | No | No | No | No | No | No | No | No | No | No | No | No | No | No | No | No | No | No | No | No | No | No | No | No | No | No | No | No | No | No | No | No | No | No | No | No | No | No | No | No | No | No | No | No | No | No | No | No | No | No | No | No | No | No | No | No | No | No | No | No | No | No | No | No | No | No | No | No | No | No | No | No |
×