Rising Storm 2: Vietnam
Shop Info
Developers
Publishers
Release Date
Price
Shop
Antimatter Games
Tripwire Interactive

Tripwire Interactive

30. Mai 2017
22,99€
STEAM
Kinguin
KeyForSteam
Developers
Antimatter Games
Tripwire Interactive

Publishers
Tripwire Interactive

Release Date
30. Mai 2017
Price
22,99€
Shop
STEAM
Kinguin
KeyForSteam
Description
Green Army Thanksgiving!


It is turkey time, so we have a Green Army Men update for you all, with new weapons and the opportunity to fight over Thanksgiving dinner. Head over to https://store.steampowered.com/app/1062590/Green_Army_Men/ for more details!
Green Army Men!
Green Army Men:
The Green Army Men mod is now available as DLC to play with Rising Storm 2: Vietnam! For the full details of the Green Army Men DLC and it's availability, see above!
Update 14 – Sommerferien-Update
Mit unserem 14. Update veröffentlichen wir neue Inhalte für Vietnam UND bereiten uns auf eine völlig neue Erweiterung vor – "Männer der grünen Armee" wird offiziell!

Innerhalb von Vietnam erhältst du:
2 neue Karten – das "Militärflugplatz-Special":
Khe Sanh – Diese Karte behandelt das Szenario "Was wäre, wenn" die VVA-Streitkräfte es geschafft hätten, in den Umkreis einzudringen und die Kämpfe auf den Flugplatz selbst übergegriffen hätten, während die USMC die Angreifer in Schach halten.

Da Nang – In einem weiteren "Was wäre, wenn"-Szenario durchbrechen die NFB-Guerillas die Verteidigung des riesigen Da Nang-Militärflugplatzes, während die USMC-Verteidiger versuchen, sie zurückzuhalten.
Männer der grünen Armee:
Darüber hinaus werden wir in naher Zukunft den "Männer der grünen Armee"-Modus als einzelnes DLC-Paket veröffentlichen. Sobald es veröffentlicht wurde, können alle Besitzer von Rising Storm 2: Vietnam kostenlos die Basisklasse Gewehrschütze spielen. Und wenn du, wie wir, die Entwickler von "Männer der grünen Armee" unterstützen möchtest (die all dies als Mod-Team in ihrer Freizeit entwickeln), kannst du das "Männer der grünen Armee"-Upgrade kaufen, das die anderen Klassen freischaltet. Alle Einnahmen aus diesem Upgrade werden mit dem "Green Army Men"-Team geteilt, um dessen Bemühungen zu unterstützen! Für alle Details zum "Männer der grünen Armee"-DLC, klicke hier:
https://store.steampowered.com/app/1062590/Green_Army_Men/
Update 13 - Phoenix Rising!
This is now the 13th content update for you, bringing:
3 New Maps
The last 2 remastered maps brought forward from RO2/RS1:
Apache Snow (remastered from "Winterwald") - ARVN forces fighting their way steadily up a heavily-wooded hill, clearing NLF positions as they go.

Demilitarized Zone (remastered from "Mamayev") - main-force North Vietnamese PAVN troops assaulting dug-in ARVN units, across a burned-out and blasted hill in the DMZ area.
The third map is a favorite community map made official:
Saigon - PAVN forces fighting their way through Saigon, past the US Embassy, the cathedral and on to the Presidential palace, as ARVN troops try to hold them off.
New Weapons
This update brings in some new weapons for the Northern forces:
RP-46 light machine gun - a modernized variant of the classic DP-28, also license-built in China and North Korea, with stocks being supplied to the North Vietnamese

MAS-49 - stocks of this semi-automatic rifle were left behind by the French and were used by the Northern forces in standard, sniper and rifle-grenade formats

Molotov cocktail - the classic homemade weapon of guerilla forces the world over
Many other changes and fixes, including:
Balance pass on many maps

Radiomen can now spawn on their commander

Leaning system overhauled

Individual Class Customization

Campaign Role and Weapon Balance changes

Helicopter Aiming decoupled from the vehicle rotation

And hundreds of bug fixes!
Update 12 – November 2018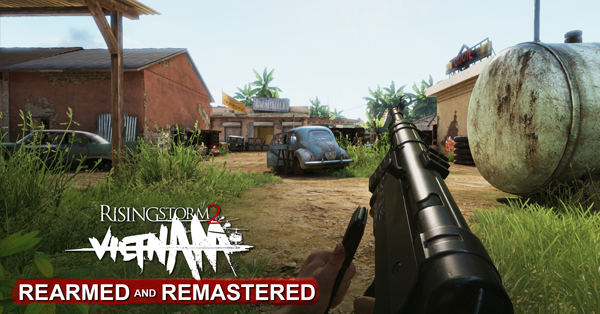 Mit dem 12. kostenlosen Inhaltsupdate in 18 Monaten bringen wir euch eine lange Liste von Leistungsoptimierungen, Audio Occlusion, neue Waffen für die nordvietnamesischen Streitkräfte, neue Karten, neue Köpfe – und einen bestimmten Wunsch der Community.
Neue Waffen für die Nordvietnamesen:
MP40 – Die berühmte deutsche Maschinenpistole aus dem Zweiten Weltkrieg, die aus sowjetischen Lagerbeständen erbeuteter Waffen an die NFB verteilt wurde.

200-Schuss-Gurt für das RPD – diese neue Variante kann im Rollenwahl-Menü gewählt werden.

Mobiles DshK – Spieler auf der nordvietnamesischen Seite können das schwere Maschinengewehr DshK 12,7mm an einem Versorgungspunkt aufnehmen, es an eine neue Position tragen und dort aufstellen, wo es gebraucht wird.

Fougasse-Mine – Eine neue Falle für nördliche Sappeure, im Grunde ein großer, improvisierter Sprengsatz, der ausgelöst wird, wenn unachtsame südliche Spieler auf einer Druckplatte stehen.
Neue Waffen für die südlichen Streitkräfte:
Das schwere Maschinengewehr Browning M2, Kaliber .50, ist als stationäre Unterstützungswaffe auf den neuen Karten verfügbar.
Leistungsoptimierungen:
Eine beträchtliche Zahl an Leistungsoptimierungen wurden mit diesem Update umgesetzt, bei Spielercharakteren, Partikeleffekten, Leveloptimierungen, Änderungen am System für Instanziertes Rendering, ein neues Set an Detailgenauigkeitsgrafiken für Waffen und Änderung an Texturen, mit einem Fokus darauf, das Textur-Streaming zu verbessern.
Neue Karten:
Als Antwort auf Umfragen bei RO2/RS1-Spielern, bringen wir euch jetzt die ersten zwei aus einem Set von beliebten Karten aus früheren Spielen, die für die Veröffentlichung für Vietnam angepasst und überarbeitet wurden. Die ersten zwei, beide aus Rising Storm, sind:
Mekong (überarbeitete Version von "Hanto") – Die NFB kämpft sich auf ihrem Weg zu einem US-Marinekorps durch den Dschungel.

Dong Ha (überarbeitete Version von "Guadalcanal") – Ein nächtlicher Dschungelangriff der NFB auf die Randgebiete eines Militärflugplatzes, der von der U.S. Army verteidigt wird.
Audio Occlusion:
Wir haben ein neues System implementiert, durch das Gewehrschüsse und andere Spielgeräusche passend von der Umgebung beeinflusst werden. Es wirkt sich nicht auf alle Geräusche im Spiel aus, aber es beeinflusst die Geräusche, die laut genug sind, um durch Wände gehört zu werden. Diese werden von Hindernissen, wie Gebäuden oder Gelände, gedämpft.
6 neue Köpfe:
Für etwas mehr Vielfalt bieten wir 3 neue Köpfe für die Nordvietnamesen und 3 für die U.S. Army und Marinekorps an. Die 3 U.S.-Köpfe repräsentieren die vielfältige Volkszugehörigkeit der U.S.-Streitkräfte dieser Zeit, mit einem Hispano-Amerikaner, einem Ureinwohner und einem Asiaten.
Und zu guter Letzt, Filme für den Abschluss einer Kampagne!
Nachdem wir das Update für die Mehrspieler-Kampagne veröffentlicht hatten, fragten viele Spieler nach passenden Filmsequenzen für das Ende der Kampagne. Ihr habt gesprochen, wir haben zugehört und zugestimmt – und jetzt sind sie da!
Mehrspieler-Kampagne - Inhaltsupdate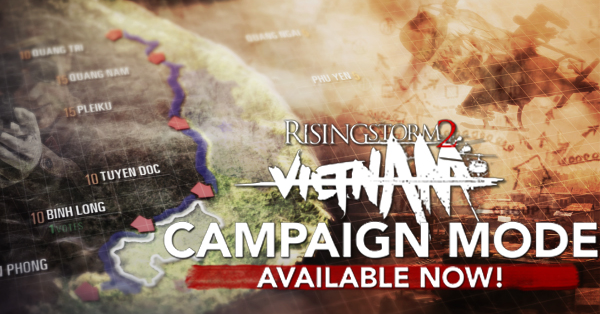 Mit diesem Update bringen wir den beliebten Mehrspieler-Kampagnenmodus aus anderen Spielen zurück und passen ihn an den Vietnamkrieg an. Die wichtigsten Eigenschaften:

Kompletter Kampagnenmodus für 64 Spieler

Spiele als nördliche oder südliche Streitkräfte und kämpfe um die Kontrolle in jeder Region

Kämpfe von 1965 bis 1975, während die verfügbaren Streitkräfte und Waffen sich im Laufe der Jahre verändern

Hilf dabei, Folgendes auszuwählen: die Region, um die du kämpfst, die Armee, die du verwendest und die tatsächliche Karte, auf der du kämpfst

Die nördlichen Streitkräfte können sich dazu entscheiden, den Ho-Chi-Minh-Pfad strategisch zu nutzen, um stärkere VVA-Streitkräfte einzusetzen

Die südlichen Streitkräfte können mit der zeitlich präzise eingesetzten Suchen-und-Vernichten-Option antworten, um dem Gegner den maximalen Schaden zuzufügen

Kämpfe mit verschiedenen Armeen, verschiedenen Kommandantenfähigkeiten und -waffen, verschiedenen Angreifern und Verteidigern um bekannte Karten

Hilf dabei, das Schicksal des Krieges in Vietnam zu entscheiden!
Zusätzlich wird eine weitere Karte vom RISING STORM 2: VIETNAM $40,000 Modding-Wettbewerb offiziell veröffentlicht:
Highway 14 - auf dieser riesigen Karte kämpft die US-Armee sich durch schwieriges Gelände entlang eines Highways und vernichtet ein Ziel nach dem anderen, während die NFB-Guerrillas versuchen, sie aufzuhalten.
Wie immer gibt es auch eine große Anzahl kleinerer Updates, Fehlerbehebungen und Verbesserungen, darunter:
Stolperdraht-Fallen und Tunnel-Spawns können auf mehr Oberflächen platziert werden, wodurch sie im städtischen Umfeld nützlicher werden. Es dauert aber länger, in Beton zu graben!

Die ARVN haben nun ihre eigene Variante ERDL-Camouflage sowie einen Tigerstripe-Boonie. Die US-Streitkräfte erhalten Mitchell-Cloud-Tarnfarben.

Auf den besonderen Wunsch eines Kartographen haben wir einen einzelnen Soundeffekt für einen Donnerschlag erstellt, statt des bereits existierenden, wiederkehrenden Donnergrollens. Wir hoffen, dass es dir gefällt!
Und schließlich sind drei weitere Karten mit Updates basierend auf dem Feedback von Spielern aus der Beta-Phase heraus:
Waldoperation - Die Territorien-Version dieser offiziellen Karte

Artilleriestützpunkt Georgina

Grenzwache
ARVN Content Update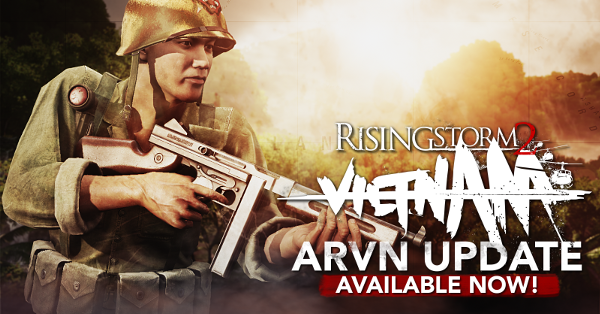 This update adds the Army of the Republic of Vietnam (ARVN) as a full playable faction in the game. The update also brings new weapons, specifically for the ARVN:

M1 Garand

M1D Garand Sniper Rifle

Thompson M1A1 SMG

M1918A2 Browning Automatic Rifle (BAR)

M1919A6 .30-cal Browning LMG

Douglas A-1 Skyraider ground-attack aircraft as a new Commander ability
There are also 2 new maps, showcasing the ARVN forces:
Quang Tri: Set during 1972, Quang Tri is a daytime supremacy map set in the citadel of the provincial capital, pitting the new ARVN forces with limited US helicopter support against NVA main-force units.

A Sau: Set on an airfield and fortified camp in the A Sau valley, this nighttime territory attack map finds ARVN forces defending against attacking NVA main-force units. Visibility is limited under the cover of darkness with occasional flares lighting up the battlefield.
In addition, the update also includes 3 maps, made by fans for the fans, from the RISING STORM 2: VIETNAM $40,000 Modding Contest, now being officially introduced to the game:
Firebase Georgina: Daytime attack by main-force NVA on a series of positions held by the US Army.

Borderwatch: Australian forces attack territory held by the NLF (Viet Cong), pushing through jungles and across open fields to the VC's final hidden base.

Resort: US Marines stage a heliborne assault from the sea on a resort area held by Viet Cong guerrillas.
Bushranger Content Update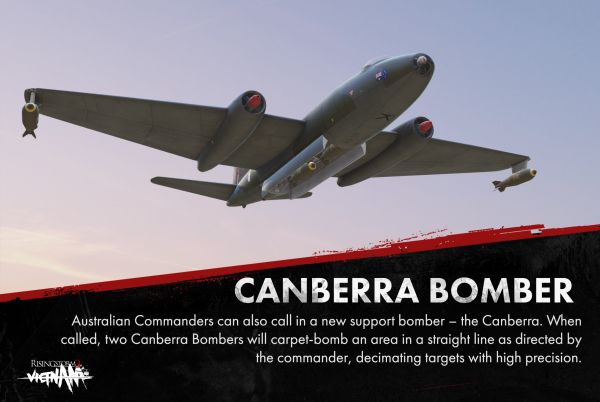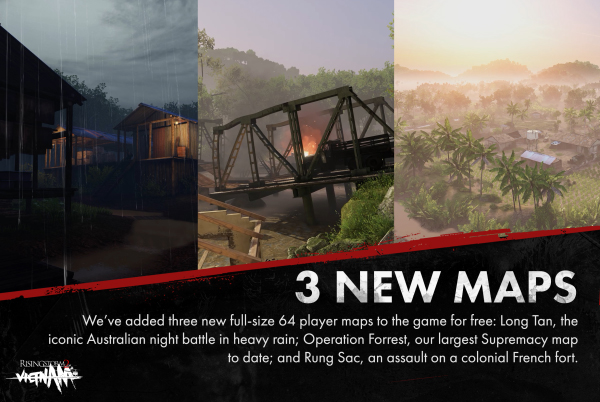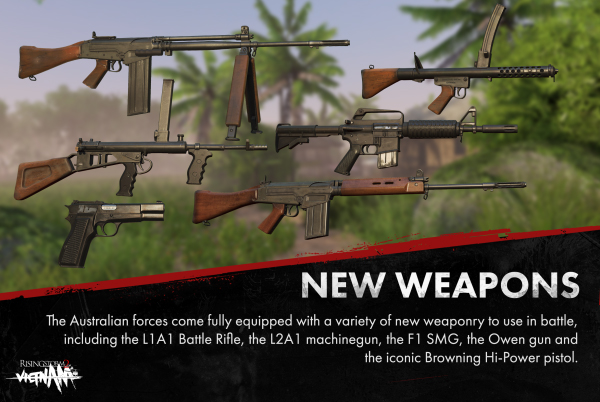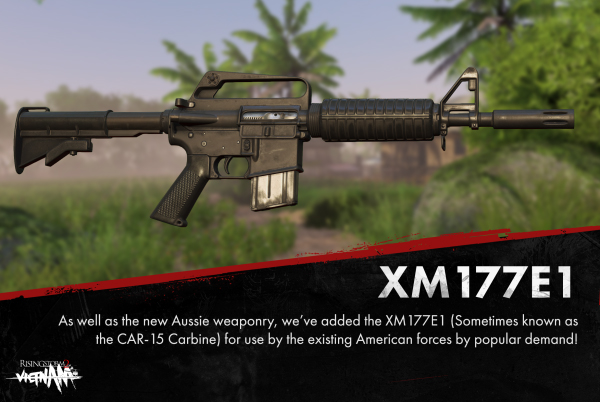 Digitale Deluxe-Edition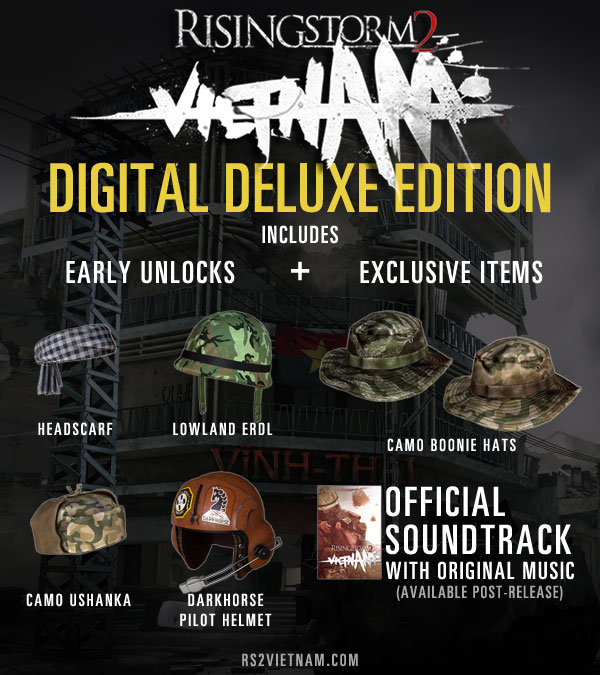 Purchase the Digital Deluxe Edition and receive 2 character customization items, 4 early item unlocks and the Official Soundtrack.
Exclusive Content
2 Exclusive Customization Items - Camouflaged Boonie Hats for both factions

The Official Soundtrack made from original composed music will be available to Digital Deluxe Edition owners after the release of Rising Storm 2: Vietnam.
Early Unlocks
United States Army/Marines
Lowland ERDL Camouflaged Helmet

Darkhorse Pilot Helmet
North Vietnamese
Headscarf

Camouflaged Ushanka
Owners of Killing Floor 2 will receive 4 Vietnam-era weapon skins for the RPG-7, M1911 pistol, Lever Action Rifle and M16 M203.
Über das Spiel
Rising Storm 2: Vietnam
ist der nächste Teil der Serie, die schon zwei Mal von
PC Gamer als "Multiplayer Game of the Year"
gekürt wurde und bringt die Serie jetzt in die Zeit der automatischen Gewehre, tragbaren Granatwerfer und anderen noch moderneren Waffensystemen. Nach wie vor mit dem authentischen Erscheinungsbild und der realistischen Waffenführung, für die die Serie bekannt ist.

Ganz nach Tripwire-Tradition wurde Vietnam gleich nach dem Start mit mehreren Updates unterstützt, welche dem Spiel wesentliche neue Inhalte gegeben haben und dem Spieler folgende neue Möglichkeiten bieten:
64-Spieler-Kämpfe

6 verschiedene spielbare Armeen, jede mit ihren eigenen Waffen und Fähigkeiten:

US-Armee und Marinekorps

Nordvietnamesische Armee (VVA) und Nationale Front für die Befreiung Südvietnams (Vietcong)

Australische Armee

Armee der Republik Vietnam (ARVN)

Mehr als 50 Waffen, von Gewehren und Pistolen bis hin zu Flammenwerfern und Raketenwerfern

4 steuerbare Hubschrauber - Huey, Cobra, Loach und Bushranger

Asymmetrische Kriegsführung - Vietcong-Fallen und Tunnel gegen US-Napalm und Hubschrauber

Mehr als 20 Karten

3 verschiedene Spielmodi

Proximity-VoIP

Und Hunderte von individuellen Charaktergestaltungsoptionen.

Rising Storm 2: Vietnam
bietet intensive Action für bis zu
64 Spieler
in Kämpfen zwischen den Streitkräften Südvietnams, der Vereinigten Staaten und ihrer Verbündeten und denen des Nordens - die regulären Hauptstreitkräfte der Nordvietnamesischen Armee und die Guerillakämpfer der Nationalen Front für die Befreiung Südvietnams (oder Vietcong).
SÜDLICHE STREITKRÄFTE - US-Armee, Australische Armee und ARVN
Die südlichen Streitkräfte haben Feuerkraft und Mobilität auf ihrer Seite und jede Armee hat ihre eigenen einzigartigen Unterstützungswaffen:
US-Armee/Marinekorps - Luftdetonationsartillerie, Gunship "Spooky" und Napalm-Angriffe

Australische Armee - Canberra-Bomber-Paar und schwere Artillerie

ARVN - Mittlere Mörser-Salve und Napalm-Angriffe von älteren A-1 Skyraiders
Für die Mobilität steht ihnen die volle Unterstützung durch Hubschrauber zur Verfügung:
UH-1 "Huey": Bietet schnellen Transport eines Trupps über die Karte

OH-6 "Loach": Funktioniert sowohl als Spotter und fliegende Kommandozentrale, als auch als schnelles Gunship mit seinen Miniguns

AH-1G "Cobra": Stark bewaffnetes Gunship mit massiver Feuerkraft für einen Piloten und einen Waffenoffizier

Australischer "Bushranger": Ein Huey mit zwei M60 Maschinengewehren, einer Minigun und Raketen
Die südlichen Truppführer werden taktisch wichtig - solange der Truppführer am Leben und einem vorteilhaften Ort ist, kann der Rest des Trupps an seiner Position spawnen. Also halte deine Truppführer in kritischen Situationen am Leben!
Wenn es um Waffen geht, so verfügen die südlichen Streitkräfte über eine breite Palette der besten Waffen der westlichen Nationen, die von älteren Überbleibseln aus dem Zweiten Weltkrieg bis hin zu den aktuellsten Technologien der damaligen Zeit reicht:
M1 Garand, M2 Karabiner, M3 "Fettpresse", BAR und M1919 LMG Kaliber .30

M14 Kampfgewehr, Scharfschützengewehre M40 und XM21

M60 LMG und Automatisches Gewehr M16

Für schwerere Unterstützung - Granatwerfer M79 und Flammenwerfer M9A1-7

Sprengstoffe - M61 Splittergranate, M8 Rauchgranate, C4 Sprengkörper und M18 Claymore
NÖRDLICHE STREITKRÄFTE - NVA und VC

Die nördlichen Mächte
haben eine größere Auswahl, die Vietnamesische Volksarmee (VVA - oder NVA) als die reguläre, disziplinierte und besser ausgestattete Haupt-Kampftruppe im Vergleich zu den Guerilla-Kämpfern der Nationalen Front für die Befreiung Südvietnams (NFB), die mit allen möglichen Waffen ausgestattet sind, die sie aus Russland und China bekommen konnten - besser bekannt als Vietcong. Als Unterstützungswaffen haben sie jeweils:
VVA/NVA - schwere Artillerie, Flugabwehrraketen und schnelle Verstärkungen durch den Ho-Chi-Minh-Pfad

NFB/VC - eine Mischung von Artillerie und Sprengmitteln (Mörser, Raketen, Weißer Phosphor), die bei schwerem Trommelfeuer eingesetzt werden

Um mit der Mobilität der südlichen Streitkräfte mitzuhalten, haben die nördlichen Streitkräfte ihre eigene Mobilität - und Tarnfähigkeit:
NVA und VC Truppführer können Spawn-Tunnel weiträumig auf den Karten platzieren, die ihnen und ihren Trupps erlauben, viel näher an der Action zu spawnen - oder sogar hinter den feindlichen Linien

Wegen ihres "Heimvorteils", können NVA und Vietcong-Einheiten, die sich ducken oder in Deckung sind nicht von südlichen Hubschraubern oder Luftfahrzeugen entdeckt werden

SA-2 Raketen - der schnelle Weg südliche Lufteinheiten zu kontern, ist die Anforderung von Flugabwehrraketen, wenn der Kommandant sie genau zum richtigen Zeitpunkt einsetzen kann

Fähigkeit "Ho-Chi-Minh-Pfad" - der NVA/VC- Kommandant kann diese Fähigkeit einsetzen, um die Spawn-Rate seines Teams zu erhöhen, wenn es brenzlig wird

Fähigkeit "Hinterhalt-Spawn" - der NVA/VC-Kommandant kann außerdem jedes Mitglied seines Teams, das auf seinen Einsatz wartet, an seinem Standort spawnen, was zu vernichtenden Hinterhalten führen kann.
Die Waffen der nördlichen Streitkräfte sind vielseitig - die VVA ist gut mit modernen Waffen aus Russland und China ausgerüstet und der Vietcong arbeitet mit einer Vielzahl von Waffen:
Sturmgewehre AK-47 und Typ 56

Russischer SKS-45 und US-M1-Karabiner und Mosin-Nagant 91/30 Gewehr

MN 91/30 und SWD Scharfschützengewehre

PPSh-41 und französische MAT 49 MPs

Doppelläufige Schrotflinte IZh-58

DP-28 und RPD LMGs

RPG-7 Raketenwerfer

MD-82 Antipersonenminen, Stolperdrähte und Punji-Fallen

Achievements
| Icon | Name | Description | Unlocked |
| --- | --- | --- | --- |
| | Welcome to the Rice Fields | Finish a round on any map as the North Vietnamese forces. | No |
| | FNG | Finish a round on any map as the US forces. | No |
| | Tripwire, Interactive | Kill an enemy player with a tripwire trap. | No |
| | It's a Trap! | Step on an enemy's punji trap. | No |
| | Smells Like... Victory! | Get 10 kills with a single napalm strike. | No |
| | Hoist By Your Own Petard | Destroy a Helicopter as North Vietnamese with a stolen M79 Grenade Launcher. | No |
| | A Real Hot Behind | Kill an enemy with the RPG's back-blast. | No |
| | I Ain't Got Time To Bleed! | Kill an enemy whilst you are bleeding. | No |
| | Whatever Happened to Leon Trotsky? | Kill an enemy with the pick mattock. | No |
| | White Feather | Kill an enemy from over 250m away with the XM21 Sniper Rifle. | No |
| | The Smell of Napalm in the Morning | Kill the North Vietnamese commander with napalm. | No |
| | Thumper | Kill an enemy with an unexploded M79 shell. | No |
| | Survive! | Use two bandages in one life without dying. | No |
| | Back For More | Refill an out-of-ammo primary weapon at a Resupply Point. | No |
| | Shave... | Kill an enemy with a helicopter's tail rotor blade. | No |
| | ... and a Haircut | Kill an enemy with a helicopter's main rotor blade. | No |
| | Pancake | Kill an enemy by landing a helicopter on them. | No |
| | First Blood | Get the first kill in a round. | No |
| | First Blood: Part 2 | Get the second kill in a round. | No |
| | Help is on the Way! | Reopen your team's spawn window in Skirmish mode by capturing an objective as the last man standing. | No |
| | The Gang Solves the North Vietnam Situation | Finish a game as part of the top-scoring squad in the game. | No |
| | Surprise, Mother...! | As the VC/PAVN Commander, spawn 8 or more friendly soldiers on your position in a single use of the Ambush ability. | No |
| | Slugfest | Kill 7 enemies with shotgun slugs in a single life. | No |
| | One Shot, One Kill | Using the Mosin Nagant (non-sniper), get one kill for every shot fired from a single five round clip. | No |
| | Edge of a Straight Razor | Complete the capture of an objective as the only player in it, in any mode. | No |
| | What Goes Around... | Kill an enemy North Vietnamese soldier by shooting a booby trap to detonate it. | No |
| | Charlie Don't Surf! | Kill a North Vietnamese soldier while they are standing in water. | No |
| | Triggernometry | Shoot down an enemy support aircraft with an RPG. | No |
| | No Strings Attached | Get a kill with a tripwire trap that hasn't had its second stake planted yet. | No |
| | Trick Shot | Kill an enemy player with a crashing aircraft that you shot down. | No |
| | Unlucky | Be killed by a crashing aircraft that has been shot down. | No |
| | Tunnel Rat | As a member of the US forces, kill 5 enemies in a single life while inside a North Vietnamese tunnel. | No |
| | Daisy Chain | Kill an enemy with an MD82 mine that was detonated by another MD82's explosion. | No |
| | Purple Haze | Mark a target with purple smoke that is then bombarded and kills an enemy player. | No |
| | Look Out Below! | Be killed by enemy artillery whilst in a helicopter. | No |
| | Lead Farmer | Fire every round of an LMG's starting ammo in a single life. | No |
| | Oh Baby, a Double! | Kill two enemies with a single round from a non-explosive weapon. | No |
| | Walls Can't Save You Now! | Kill an enemy with an RPG-7 through a wall or other piece of cover. | No |
| | Blowin' in the Wind | Safely land a helicopter (using autorotation) after the engine dies at greater than 50m altitude. | No |
| | We Just Put Sir Isaac Newton in the Driver's Seat | Survive a helicopter crash with two dead pilots or a destroyed main rotor. | No |
| | The Horror... | Witness another player dying from napalm up close, while surviving yourself. | No |
| | Up Close and Personal | Kill 5 enemies using a bayonet. | No |
| | Iron Thighs | Spend a total of two hours crouched. | No |
| | Green Belly | Spend a total of two hours prone. | No |
| | Ain't No Hurdle High Enough | Mantle 500 times. | No |
| | Puff the Magic Dragon | Get 50 kills with the AC47 gunship. | No |
| | Die Walkure | Insert 25 soldiers into combat from the Huey. | No |
| | Rider on the Storm | Spawn 10 times in the back of a helicopter. | No |
| | Spitting Cobra | Get 50 kills with the Cobra's chin turret. | No |
| | It Belongs in a Museum! | Get 10 kills with the Mosin Nagant (non-sniper). | No |
| | The Value of Not Being Seen | Use camouflage to hide from recon planes for a total of 5 minutes. | No |
| | Get Some! | Get 25 kills as a helicopter door-gunner. | No |
| | Rookie Soldier | Kill 100 Enemy Infantry. | No |
| | Veteran Soldier | Kill 500 Enemy Infantry. | No |
| | Master Soldier | Kill 1000 Enemy Infantry. | No |
| | Machinegunner Rookie | Kill 50 Enemies with LMGs. | No |
| | Machinegunner Veteran | Kill 250 Enemies with LMGs. | No |
| | Machinegunner Master | Kill 500 Enemies with LMGs. | No |
| | Sharpshooter Rookie | Kill 50 Enemies with Sniper Rifles. | No |
| | Sharpshooter Veteran | Kill 100 Enemies with Sniper Rifles. | No |
| | Sharpshooter Master | Kill 250 Enemies with Sniper Rifles. | No |
| | Hand-to-Hand Rookie | Get 10 Melee Kills. | No |
| | Hand-to-Hand Veteran | Get 50 Melee Kills. | No |
| | Hand-to-Hand Master | Get 100 Melee Kills. | No |
| | Teamwork! | Get 25 Kill Assists. | No |
| | Duck Hunting Rookie | Destroy 5 Enemy Helicopters. | No |
| | Duck Hunting Veteran | Destroy 50 Enemy Helicopters. | No |
| | Duck Hunting Master | Destroy 100 Enemy Helicopters. | No |
| | A Winner is You! - Rookie | Win a total of 10 rounds, regardless of map or gamemode. | No |
| | A Winner is You! - Veteran | Win a total of 50 rounds, regardless of map or gamemode. | No |
| | A Winner is You! - Master | Win a total of 100 rounds, regardless of map or gamemode. | No |
| | Territories Rookie | Win 10 Rounds of Territories. | No |
| | Territories Veteran | Win 50 Rounds of Territories. | No |
| | Territories Master | Win 100 Rounds of Territories. | No |
| | Skirmish Rookie | Win 10 Rounds of Skirmish. | No |
| | Skirmish Veteran | Win 50 Rounds of Skirmish. | No |
| | Skirmish Master | Win 100 Rounds of Skirmish. | No |
| | Supremacy Rookie | Win 10 Rounds of Supremacy. | No |
| | Supremacy Veteran | Win 50 Rounds of Supremacy. | No |
| | Supremacy Master | Win 100 Rounds of Supremacy. | No |
| | Run Through the Jungle | Sprint for a total of 10km. | No |
| | Crouch Run Through the Jungle | Sprint while crouched for a total of 10km. | No |
| | High Five! | Get 5 kills with punji traps. | No |
| | Demolition Man | Collapse 25 enemy spawn tunnels. | No |
| | What a Thrill. | Spend a total of 2 minutes climbing ladders. | No |
| | Heigh Hoooo! | It's off to war we go. | No |
| | Daredevil | They don't teach THAT at flight school! | No |
| | Nothin' But Net | Keep dreaming Kobe. You don't even have a ball! | No |
| | I Come From a Land Down Under | Finish a round on any map as the Australian forces. | No |
| | That's Not a Knife... THAT'S a Knife | Bayonet a player who is mid-bayonet charge on an Australian forces map (as either team). | No |
| | That's Not a Knife, That's a Spoon! | Kill a player who has a bayonet equipped, using melee WITHOUT a bayonet equipped, on an Australian forces map (as either team). | No |
| | He Was Only Nineteen | Kill an Australian soldier. | No |
| | Bluey | Complete a round as an Australian soldier with red hair. | No |
| | We're the Only Diggers Around Here! | As an Australian soldier, kill a North Vietnamese soldier who is in the process of digging a spawn tunnel. | No |
| | Ned Kelly | Kill 100 enemy soldiers as the pilot of the Bushranger. | No |
| | Captain Thunderbolt | Kill 50 enemy soldiers as the gunner of the Bushranger. | No |
| | XXXX | Spot 4 enemies in a single life as an Australian soldier. | No |
| | Master Blaster | Who runs Bartertown?! As an Australian soldier, kill an enemy with a stolen RPG. | No |
| | Two Men Enter, One Man Leaves | Safely land and exit a bushranger with a dead pilot or co-pilot (as either pilot or copilot). | No |
| | BOOMerang | Throw a grenade, get blown up by it. (As an Australian soldier) | No |
| | Bootable Offence | Disparaging the boot is a bootable offence! | No |
| | Crikey! | Danger, Danger, Danger! Woo Hoo! | No |
| | High Ping Killer | Reload the M1 Garand 250 times. | No |
| | ARVN a Good Time | Complete a round playing as the Army of the Republic of Vietnam. | No |
| | Raising the BAR | Get 100 kills with the M1918 Browning Automatic Rifle. | No |
| | Miss Saigon | Near-miss (suppress) 8 enemies without hitting anyone, with a single shot from the M1D Garand sniper rifle. | No |
| | Quang Trifecta | Win three rounds on VNSU-Quang Tri. | No |
| | Unlucky Number | Be the fourth ARVN soldier killed in a round. | No |
| | A Sau Loser | Lose a round on A Sau. | No |
| | A Flare For the Dramatic | Win a round on A Sau. | No |
| | The Untouchables | Get ten kills with the M1A1 Thompson without taking damage. | No |
| | A Spad Time | Shoot down the Skyraider with an RPG. | No |
| | Barrel of Laughs | Nobody likes a Comedian. | No |
| | Spinal Tap | This one goes to eleven! | No |
| | Rewriting the History Books | Win a campaign as the South Vietnamese forces. | No |
| | Home Status: Safe | Win campaign as the North Vietnamese forces. | No |
| | Ho Chi Winh | Win a round as the North Vietnamese forces with the Ho Chi Minh Trail ability active. | No |
| | Kill 'Em All | Win a round as the South Vietnamese forces with the Search & Destroy ability active. | No |
| | Richard Nixon, War Hero | Win a Campaign as the South Vietnamese forces before the end of 1975. | No |
| | Domino Theory | Win a Campaign as the North Vietnamese forces before the end of 1975. | No |
| | Joy to the World | Win a match on the 'Green Army Men Christmas' event map. | No |
| | I'm on Santa's Naughty List | Lose a match on the 'Green Army Men Christmas' event map. | No |
| | Look Mom, I'm on TV! | You'll get square eyes if you sit that close! | No |
| | What a Block Head | We'd also have settled for 'block party'. | No |
| | Time to Play Santa | Pilot a helicopter for the first time on the 'Green Army Men Christmas' event map. | No |
| | Couch Potato | What's a holiday without lazing around on the couch? | No |
| | Is That Big Ben? | Time flies when you're having fun! | No |
| | Rudolph Won't You Guide my Sleigh... | Twas the flight before Christmas... | No |
| | Chestnuts Roasting on an Open Fire | Burn two enemies with the Flamethrower without releasing the trigger on the 'Green Army Men Christmas' event map. | No |
| | Rockin' Around the Christmas Tree | Successfuly defend the 'Christmas Tree' objective on the 'Green Army Men Christmas' event map. | No |
| | Christmas Sleigh | Kill five players in one lifetime on the 'Green Army Men Christmas' event map. | No |
| | Ghost of Christmas Past | Now how did that get up here? | No |
| | | | | | | | | | | | | | | | | | | | | | | | | | | | | | | | | | | | | | | | | | | | | | | | | | | | | | | | | | | | | | | | | | | | | | | | | | | | | | | | | | | | | | | | | | | | | | | | | | | | | | | | | | | | | | | | | | | | | | | | | | | | | | | | | | | | | |
| --- | --- | --- | --- | --- | --- | --- | --- | --- | --- | --- | --- | --- | --- | --- | --- | --- | --- | --- | --- | --- | --- | --- | --- | --- | --- | --- | --- | --- | --- | --- | --- | --- | --- | --- | --- | --- | --- | --- | --- | --- | --- | --- | --- | --- | --- | --- | --- | --- | --- | --- | --- | --- | --- | --- | --- | --- | --- | --- | --- | --- | --- | --- | --- | --- | --- | --- | --- | --- | --- | --- | --- | --- | --- | --- | --- | --- | --- | --- | --- | --- | --- | --- | --- | --- | --- | --- | --- | --- | --- | --- | --- | --- | --- | --- | --- | --- | --- | --- | --- | --- | --- | --- | --- | --- | --- | --- | --- | --- | --- | --- | --- | --- | --- | --- | --- | --- | --- | --- | --- | --- | --- | --- | --- | --- | --- | --- | --- | --- | --- | --- | --- | --- |
| Icon | | | | | | | | | | | | | | | | | | | | | | | | | | | | | | | | | | | | | | | | | | | | | | | | | | | | | | | | | | | | | | | | | | | | | | | | | | | | | | | | | | | | | | | | | | | | | | | | | | | | | | | | | | | | | | | | | | | | | | | | | | | | | | | | | | | | |
| Name | Welcome to the Rice Fields | FNG | Tripwire, Interactive | It's a Trap! | Smells Like... Victory! | Hoist By Your Own Petard | A Real Hot Behind | I Ain't Got Time To Bleed! | Whatever Happened to Leon Trotsky? | White Feather | The Smell of Napalm in the Morning | Thumper | Survive! | Back For More | Shave... | ... and a Haircut | Pancake | First Blood | First Blood: Part 2 | Help is on the Way! | The Gang Solves the North Vietnam Situation | Surprise, Mother...! | Slugfest | One Shot, One Kill | Edge of a Straight Razor | What Goes Around... | Charlie Don't Surf! | Triggernometry | No Strings Attached | Trick Shot | Unlucky | Tunnel Rat | Daisy Chain | Purple Haze | Look Out Below! | Lead Farmer | Oh Baby, a Double! | Walls Can't Save You Now! | Blowin' in the Wind | We Just Put Sir Isaac Newton in the Driver's Seat | The Horror... | Up Close and Personal | Iron Thighs | Green Belly | Ain't No Hurdle High Enough | Puff the Magic Dragon | Die Walkure | Rider on the Storm | Spitting Cobra | It Belongs in a Museum! | The Value of Not Being Seen | Get Some! | Rookie Soldier | Veteran Soldier | Master Soldier | Machinegunner Rookie | Machinegunner Veteran | Machinegunner Master | Sharpshooter Rookie | Sharpshooter Veteran | Sharpshooter Master | Hand-to-Hand Rookie | Hand-to-Hand Veteran | Hand-to-Hand Master | Teamwork! | Duck Hunting Rookie | Duck Hunting Veteran | Duck Hunting Master | A Winner is You! - Rookie | A Winner is You! - Veteran | A Winner is You! - Master | Territories Rookie | Territories Veteran | Territories Master | Skirmish Rookie | Skirmish Veteran | Skirmish Master | Supremacy Rookie | Supremacy Veteran | Supremacy Master | Run Through the Jungle | Crouch Run Through the Jungle | High Five! | Demolition Man | What a Thrill. | Heigh Hoooo! | Daredevil | Nothin' But Net | I Come From a Land Down Under | That's Not a Knife... THAT'S a Knife | That's Not a Knife, That's a Spoon! | He Was Only Nineteen | Bluey | We're the Only Diggers Around Here! | Ned Kelly | Captain Thunderbolt | XXXX | Master Blaster | Two Men Enter, One Man Leaves | BOOMerang | Bootable Offence | Crikey! | High Ping Killer | ARVN a Good Time | Raising the BAR | Miss Saigon | Quang Trifecta | Unlucky Number | A Sau Loser | A Flare For the Dramatic | The Untouchables | A Spad Time | Barrel of Laughs | Spinal Tap | Rewriting the History Books | Home Status: Safe | Ho Chi Winh | Kill 'Em All | Richard Nixon, War Hero | Domino Theory | Joy to the World | I'm on Santa's Naughty List | Look Mom, I'm on TV! | What a Block Head | Time to Play Santa | Couch Potato | Is That Big Ben? | Rudolph Won't You Guide my Sleigh... | Chestnuts Roasting on an Open Fire | Rockin' Around the Christmas Tree | Christmas Sleigh | Ghost of Christmas Past |
| Description | Finish a round on any map as the North Vietnamese forces. | Finish a round on any map as the US forces. | Kill an enemy player with a tripwire trap. | Step on an enemy's punji trap. | Get 10 kills with a single napalm strike. | Destroy a Helicopter as North Vietnamese with a stolen M79 Grenade Launcher. | Kill an enemy with the RPG's back-blast. | Kill an enemy whilst you are bleeding. | Kill an enemy with the pick mattock. | Kill an enemy from over 250m away with the XM21 Sniper Rifle. | Kill the North Vietnamese commander with napalm. | Kill an enemy with an unexploded M79 shell. | Use two bandages in one life without dying. | Refill an out-of-ammo primary weapon at a Resupply Point. | Kill an enemy with a helicopter's tail rotor blade. | Kill an enemy with a helicopter's main rotor blade. | Kill an enemy by landing a helicopter on them. | Get the first kill in a round. | Get the second kill in a round. | Reopen your team's spawn window in Skirmish mode by capturing an objective as the last man standing. | Finish a game as part of the top-scoring squad in the game. | As the VC/PAVN Commander, spawn 8 or more friendly soldiers on your position in a single use of the Ambush ability. | Kill 7 enemies with shotgun slugs in a single life. | Using the Mosin Nagant (non-sniper), get one kill for every shot fired from a single five round clip. | Complete the capture of an objective as the only player in it, in any mode. | Kill an enemy North Vietnamese soldier by shooting a booby trap to detonate it. | Kill a North Vietnamese soldier while they are standing in water. | Shoot down an enemy support aircraft with an RPG. | Get a kill with a tripwire trap that hasn't had its second stake planted yet. | Kill an enemy player with a crashing aircraft that you shot down. | Be killed by a crashing aircraft that has been shot down. | As a member of the US forces, kill 5 enemies in a single life while inside a North Vietnamese tunnel. | Kill an enemy with an MD82 mine that was detonated by another MD82's explosion. | Mark a target with purple smoke that is then bombarded and kills an enemy player. | Be killed by enemy artillery whilst in a helicopter. | Fire every round of an LMG's starting ammo in a single life. | Kill two enemies with a single round from a non-explosive weapon. | Kill an enemy with an RPG-7 through a wall or other piece of cover. | Safely land a helicopter (using autorotation) after the engine dies at greater than 50m altitude. | Survive a helicopter crash with two dead pilots or a destroyed main rotor. | Witness another player dying from napalm up close, while surviving yourself. | Kill 5 enemies using a bayonet. | Spend a total of two hours crouched. | Spend a total of two hours prone. | Mantle 500 times. | Get 50 kills with the AC47 gunship. | Insert 25 soldiers into combat from the Huey. | Spawn 10 times in the back of a helicopter. | Get 50 kills with the Cobra's chin turret. | Get 10 kills with the Mosin Nagant (non-sniper). | Use camouflage to hide from recon planes for a total of 5 minutes. | Get 25 kills as a helicopter door-gunner. | Kill 100 Enemy Infantry. | Kill 500 Enemy Infantry. | Kill 1000 Enemy Infantry. | Kill 50 Enemies with LMGs. | Kill 250 Enemies with LMGs. | Kill 500 Enemies with LMGs. | Kill 50 Enemies with Sniper Rifles. | Kill 100 Enemies with Sniper Rifles. | Kill 250 Enemies with Sniper Rifles. | Get 10 Melee Kills. | Get 50 Melee Kills. | Get 100 Melee Kills. | Get 25 Kill Assists. | Destroy 5 Enemy Helicopters. | Destroy 50 Enemy Helicopters. | Destroy 100 Enemy Helicopters. | Win a total of 10 rounds, regardless of map or gamemode. | Win a total of 50 rounds, regardless of map or gamemode. | Win a total of 100 rounds, regardless of map or gamemode. | Win 10 Rounds of Territories. | Win 50 Rounds of Territories. | Win 100 Rounds of Territories. | Win 10 Rounds of Skirmish. | Win 50 Rounds of Skirmish. | Win 100 Rounds of Skirmish. | Win 10 Rounds of Supremacy. | Win 50 Rounds of Supremacy. | Win 100 Rounds of Supremacy. | Sprint for a total of 10km. | Sprint while crouched for a total of 10km. | Get 5 kills with punji traps. | Collapse 25 enemy spawn tunnels. | Spend a total of 2 minutes climbing ladders. | It's off to war we go. | They don't teach THAT at flight school! | Keep dreaming Kobe. You don't even have a ball! | Finish a round on any map as the Australian forces. | Bayonet a player who is mid-bayonet charge on an Australian forces map (as either team). | Kill a player who has a bayonet equipped, using melee WITHOUT a bayonet equipped, on an Australian forces map (as either team). | Kill an Australian soldier. | Complete a round as an Australian soldier with red hair. | As an Australian soldier, kill a North Vietnamese soldier who is in the process of digging a spawn tunnel. | Kill 100 enemy soldiers as the pilot of the Bushranger. | Kill 50 enemy soldiers as the gunner of the Bushranger. | Spot 4 enemies in a single life as an Australian soldier. | Who runs Bartertown?! As an Australian soldier, kill an enemy with a stolen RPG. | Safely land and exit a bushranger with a dead pilot or co-pilot (as either pilot or copilot). | Throw a grenade, get blown up by it. (As an Australian soldier) | Disparaging the boot is a bootable offence! | Danger, Danger, Danger! Woo Hoo! | Reload the M1 Garand 250 times. | Complete a round playing as the Army of the Republic of Vietnam. | Get 100 kills with the M1918 Browning Automatic Rifle. | Near-miss (suppress) 8 enemies without hitting anyone, with a single shot from the M1D Garand sniper rifle. | Win three rounds on VNSU-Quang Tri. | Be the fourth ARVN soldier killed in a round. | Lose a round on A Sau. | Win a round on A Sau. | Get ten kills with the M1A1 Thompson without taking damage. | Shoot down the Skyraider with an RPG. | Nobody likes a Comedian. | This one goes to eleven! | Win a campaign as the South Vietnamese forces. | Win campaign as the North Vietnamese forces. | Win a round as the North Vietnamese forces with the Ho Chi Minh Trail ability active. | Win a round as the South Vietnamese forces with the Search & Destroy ability active. | Win a Campaign as the South Vietnamese forces before the end of 1975. | Win a Campaign as the North Vietnamese forces before the end of 1975. | Win a match on the 'Green Army Men Christmas' event map. | Lose a match on the 'Green Army Men Christmas' event map. | You'll get square eyes if you sit that close! | We'd also have settled for 'block party'. | Pilot a helicopter for the first time on the 'Green Army Men Christmas' event map. | What's a holiday without lazing around on the couch? | Time flies when you're having fun! | Twas the flight before Christmas... | Burn two enemies with the Flamethrower without releasing the trigger on the 'Green Army Men Christmas' event map. | Successfuly defend the 'Christmas Tree' objective on the 'Green Army Men Christmas' event map. | Kill five players in one lifetime on the 'Green Army Men Christmas' event map. | Now how did that get up here? |
| Unlocked | No | No | No | No | No | No | No | No | No | No | No | No | No | No | No | No | No | No | No | No | No | No | No | No | No | No | No | No | No | No | No | No | No | No | No | No | No | No | No | No | No | No | No | No | No | No | No | No | No | No | No | No | No | No | No | No | No | No | No | No | No | No | No | No | No | No | No | No | No | No | No | No | No | No | No | No | No | No | No | No | No | No | No | No | No | No | No | No | No | No | No | No | No | No | No | No | No | No | No | No | No | No | No | No | No | No | No | No | No | No | No | No | No | No | No | No | No | No | No | No | No | No | No | No | No | No | No | No | No | No | No | No |
×