Guardians of Orion (Phase 1)
Shop Info
Description
Full Gamepad Support!

Über das Spiel

Guardians of Orion is a Sci-Fi MMORPG Shooter featuring Cooperative, Competitive, Social and Dog-fighting Gameplay! Guardians of Orion takes place half a century from now and allows you to explore The New Solar System. Rich with an unlimited and renewable clean energy source, Ion Crystals generated by the star of Rigel help power your Guardian using the most advanced technology and weaponry ever created.
PHASE1 servers offline for PHASE2 server network architecture updates.
PHASE2 is a free update for all owners of PHASE1.
OFFICIAL ORION DISCORD!
Rewards, Progression & Behind-The-Scenes
https://discord.gg/cY5XHC3
· SURVIVAL
Fight against devastating enemies including ROBOTS & DINOSAURS in cooperative gameplay!
· PLAY YOUR WAY!
Swap between First-Person, Third-Person and Top-Down perspectives at ANY time during Cooperative gameplay!
· INVENTORY
Collect Loot & Gear along your journeys!
· CRAFTING
Forge Resources into Gear and other items.
· STATISTICS
Track your accomplishments with detailed player statistics and overviews!
· LEADERBOARDS
Compete with others across a variety of ranks and skills!
· CUSTOMIZATION
Millions of possibilities, including: Armors, Hats, Helmets, Weapon Skins, Shaders, Tracers, Effects, and more!
· GIBS & GORE
Decimate your enemies and experience over-the-top violence, gore and gibs! (Can be disabled via gameplay settings).
· EXECUTIONS & FATALITIES
Take the violence to another level with extreme finishing moves and fatalities!
· PLAY or PAY!
The majority of Trek Store items can either be bought outright or played for as a variety of in-game systems grant you store credits, including the resources you collect, all PvP kills and bonus missions, achievements, daily challenges, weekly challenges and more! Our store is cosmetic-focused with no pay-2-win!
· COMPANIONS
Pets help assist you in collecting resources, items and gear! Acquire a PET and never be alone again.
· LOADOUTS
Customize your Weapon Loadout per characters, including Primary Weapons, Secondary Weapons, Item Kit and Grenade Type!
[ GUARDIANS OF ORION EDITIONS ]
There are currently three main ways to start playing Guardians of Orion: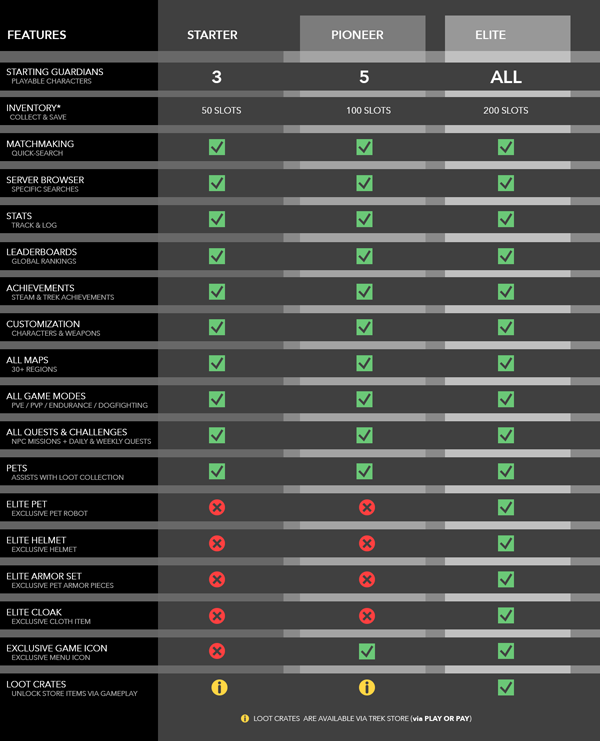 Achievements
Icon
Name
Description
Unlocked
Welcome to Orbital Command
Complete the tutorial and enter Orbital Command
Yes
04.08.2017 21:30
It's Harvest Season
Complete your first match of the Harvest module.
Yes
04.08.2017 22:00
That Feels Good!
Level up any Guardian.
Yes
04.08.2017 21:51
The Feast Begins
Kill one hundred enemies.
Yes
04.08.2017 21:57
Trek Buddy
Win a match on Harvest with a Developer (Viral).
Yes
04.08.2017 22:01
Look At You Go
Use a Guardian Ability.
Yes
04.08.2017 21:43
Best Game Feature Ever, IMO
Blink two times.
Yes
04.08.2017 21:38
This is Mayhem!
Play a match of Mayhem FFA PvP.
No
Let's Make Some Magic!
Craft any item.
No
This is WAR!
Play a match of WarGames Dogfighting PvP.
No
Icon
Name
Welcome to Orbital Command
It's Harvest Season
That Feels Good!
The Feast Begins
Trek Buddy
Look At You Go
Best Game Feature Ever, IMO
This is Mayhem!
Let's Make Some Magic!
This is WAR!
Description
Complete the tutorial and enter Orbital Command
Complete your first match of the Harvest module.
Level up any Guardian.
Kill one hundred enemies.
Win a match on Harvest with a Developer (Viral).
Use a Guardian Ability.
Blink two times.
Play a match of Mayhem FFA PvP.
Craft any item.
Play a match of WarGames Dogfighting PvP.
Unlocked
Yes
04.08.2017 21:30
Yes
04.08.2017 22:00
Yes
04.08.2017 21:51
Yes
04.08.2017 21:57
Yes
04.08.2017 22:01
Yes
04.08.2017 21:43
Yes
04.08.2017 21:38
No
No
No
×